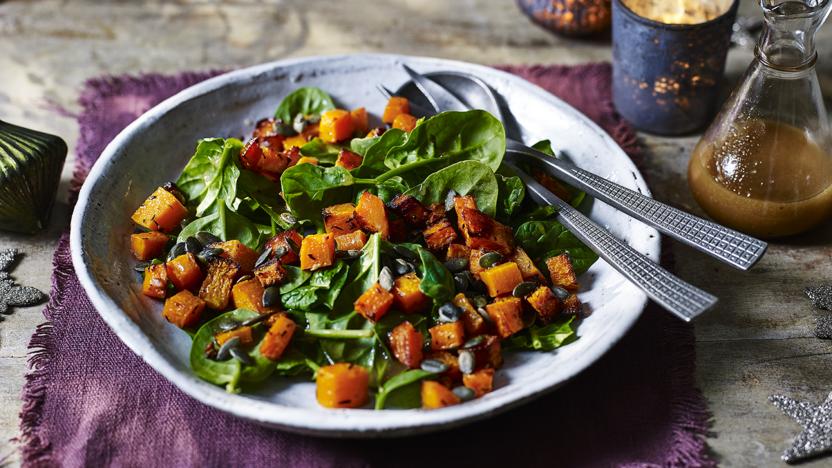 This wintery butternut squash salad makes a great side dish to Christmas ham, and would also go well with griddled pear wedges as part of a vegetarian platter of festive dishes.


Ingredients
For the dressing
Method
Preheat the oven to 200C/180C Fan/Gas 6.

Cut the pumpkin flesh into a fairly small dice and put into a roasting tin. Toss with the oil, thyme and garlic, and season generously.

Roast for 30 minutes, or until the pumpkin has softened and is well browned around the edges. Allow to cool slightly.

Whisk together the dressing ingredients in large bowl.

Add the salad leaves to the dressing, season with salt and pepper, then toss lightly. Arrange the leaves over a serving plate. Toss the pumpkin in the same bowl to pick up any residue from the dressing, then arrange over the leaves. Sprinkle with the pumpkin seeds and serve.
Recipe Tips
If you want to use the pumpkin or squash seeds from the pumpkin rather than from out of a packet, they need to be fried or roasted. Pull the seeds out of the central membrane and wash them to get rid of any orange flesh or tendrils. Dry thoroughly. Heat a tablespoon of oil in a large frying pan and add the seeds. Fry, shaking and stirring regularly, until the pumpkin seeds have taken on some colour and are releasing their aroma. Remove from the pan and allow to cool. Season well with salt.
This recipe is from...
Recipes from this episode