Roast scallops with girolles, brown shrimps, white beans and cucumber
Ingredients
For the spiced butter
For the parsley oil
bunch flat leaf parsley
150ml/5fl oz olive oil
For the stew
For the scallops
To serve
Method
To make the spiced butter gently melt the butter in a saucepan over a low heat and add the spices. Remove from the heat, place in a container and put in the fridge until needed.

To make the parsley oil, place the oil and parsley in a blender and blitz until smooth. Pass through a sieve and set aside.

To make the stew, heat the oil in a large sauté pan and sauté the girolles for 1 –2 minutes, or until tender. Add the wine and reduce by half, add the stock, the beans and the scallop roes. Bring to the boil and reduce to a simmer.

Add the spiced butter and whisk in. Remove from the heat and stir in the brown shrimps, samphire and cucumber balls. Season with salt and lime juice to taste. Keep warm.

To make the scallops, preheat the oven to 190C/170C Fan/Gas 5.

Heat the oil in a non-stick ovenproof frying pan, add the scallops and fry for 2 minutes. Turn the scallops over and place the pan in the oven for 1 minute.

Remove the pan from the oven, add the spiced butter and baste the scallops for 30 seconds. Season the scallops with salt to taste.

To serve, spoon the stew into two bowls and place two scallops on top. Garnish with the parsley oil, borage and cucumber flowers.
This recipe is from...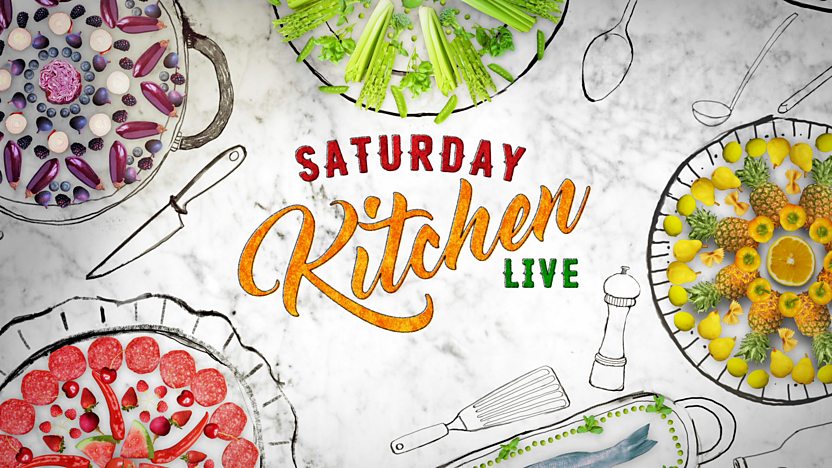 Saturday Kitchen
17/08/2019
Recipes from this episode