Roast chicken with perfect gravy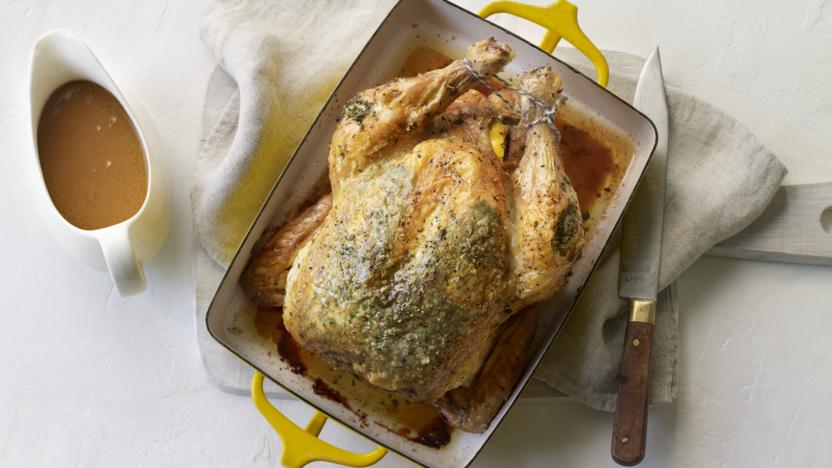 This is the traditional Sunday roast chicken but prepared in the most flavourful way and served alongside rich gravy.


Ingredients
For the gravy
For the roast chicken
Method
Start by preparing the gravy. Remove the tips of the legs, tail and wing tips from the chicken and put in a stock pot or casserole. Add the carrot, celery, roughly chopped onion, garlic, peppercorns, lardons, a large pinch of salt and the stock cube. Add enough water to completely cover the ingredients and bring to the boil. Reduce the heat and simmer for 1½–2 hours. Once slightly cooled, strain the stock through a fine sieve and set aside.

Meanwhile, for the chicken, preheat the oven to 200C/180C Fan/Gas 6. Use a sharp knife to slash each drumstick twice and the underside of each thigh once. Mix the herbs with 4 tablespoons of the oil and lots of salt and pepper. Rub the herb mixture into the slashes and under the skin of the breast. If you have any leftover, rub the mixture into the cavity. Put the lemon halves in the cavity and make sure the chicken is seasoned with salt and pepper inside and out. Rub the skin of the chicken with the remaining oil and place breast-side down in a roasting tin. Roast for 10 minutes then turn over and roast for another 1 hour 15 minutes. To check it is cooked, insert a skewer into the thickest part of the leg and check that the juices run clear. If not, return to the oven for 10–15 minutes then test again. Once cooked, remove from the roasting tin and leave to rest for 10–15 minutes in a warm place.

To finish the gravy, skim off any excess fat from the roasting tin. Add the butter and gently fry the finely sliced onion for a few minutes, until soft and translucent. Stir in the plain flour, then add ladles of the stock, stirring all the time. If the gravy is too thin, make a slurry by mixing the cornflour with a little water. Add any meat juices from resting the chicken and keep stirring until thickened. Strain and pour into a serving jug.

Carve the chicken and serve with the gravy.
This recipe is from...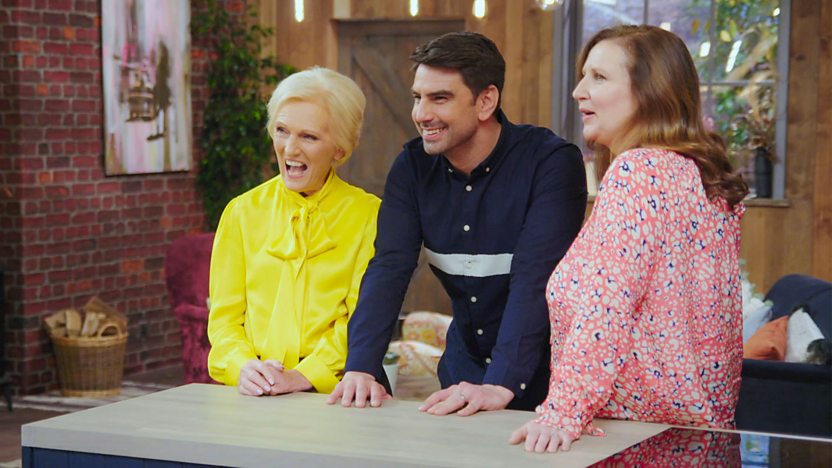 Best Home Cook
8. Episode 8