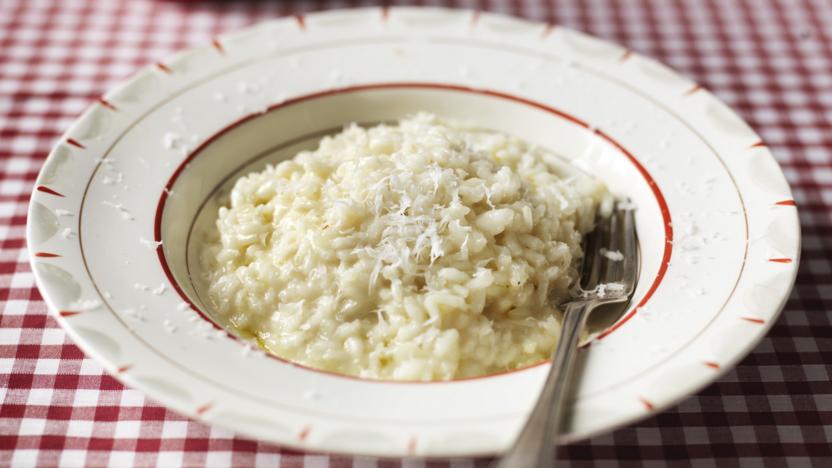 Master the art of Italian simplicity, with Simon Hopkinson's recipe for risotto alla Parmigiana. Just keep stirring!

Method
Heat 40g/1½oz of the butter in a deep, heavy-based pan and gently fry the onion until softened, but not coloured.

Meanwhile heat the stock in a separate saucepan. Add the vermouth to the onions, turn up the heat and reduce until almost evaporated.

Add the rice and, stirring vigorously using a sturdy wooden spoon, allow the rice to become shiny with butter before adding a ladle of hot stock. Continuing to stir vigorously and let the rice absorb the stock before adding another ladleful.

Remove the risotto from the heat when the rice is becoming tender, but is still sloppy and dropping consistency. Cover with a lid and set aside for three minutes.

Stir in two tablespoons of cheese and the remaining butter. Season to taste with salt and freshly ground white pepper and vigorously beat the rice with a wooden spoon until slick and glossy; it should easily fall back on itself when lifted.

Spoon onto hot plates and take extra parmesan to the dinner table.
This recipe is from...
The Good Cook
Episode 2
Recipes from this episode