Rioja-braised lamb shanks with chorizo and garlic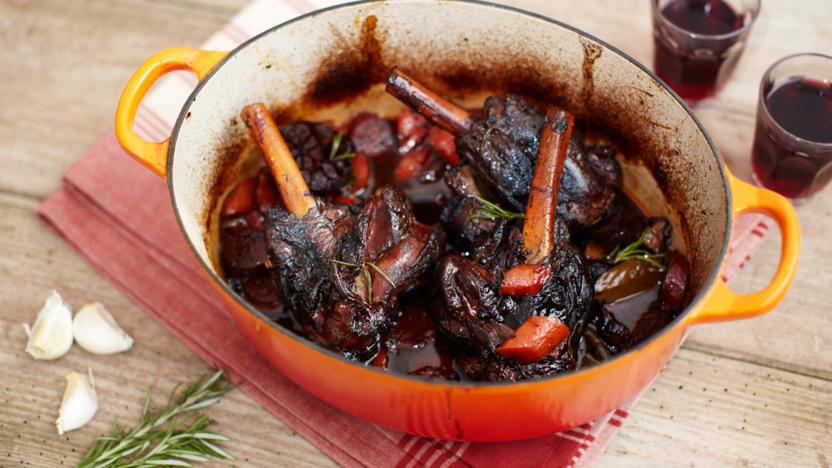 Preparation time
less than 30 mins
Once the initial faff of browning the meat is done, this dish requires very little effort and the resulting flavours are intense.
Preparation time
less than 30 mins
Method
Preheat the oven to 150C/300F/Gas 3.

Season the lamb well with salt and freshly ground black pepper. Drizzle oil into a heavy-based saucepan pan set over a high heat. Turn down the heat slightly and brown the lamb shanks all over.

Pour the wine and balsamic vinegar into a casserole dish and boil for five minutes. Add the lamb shanks, garlic, bay leaves, paprika, peppercorns, half the rosemary and the stock. Cover with a lid and bring to the boil.

Once boiling, place the dish into the oven and cook for two hours.

Remove the dish from the oven and add the chorizo, onion, carrots, honey to taste, if using, and the remaining rosemary, then return to the oven and cook for another hour, or until the meat is tender and falling off the bone.

Remove the meat and vegetables with a slotted spoon and keep warm.

Place the casserole dish onto a high heat and boil for 8–10 minutes, or until thickened slightly. Add salt and freshly ground black pepper to taste.

Serve the meat and vegetables with creamy mashed potatoes and lashings of the sauce.
Related Recipes
See more How to braise meat recipes (10)
See more slow-cooked dishes recipes (38)
See more lamb shank recipes (26)
This recipe is from...
Recipes from this episode