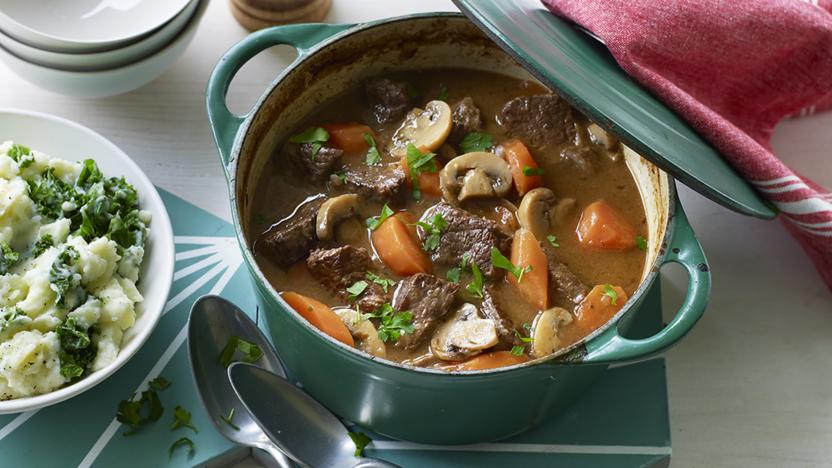 This comforting beef casserole is a perfect winter warmer and, although it seems rich, it is actually suitable for a low-calorie diet of 1200–1500 calories a day.

Each serving provides 429 kcal, 43g protein, 18g carbohydrates (of which 11g sugars), 16g fat (of which 5g saturates), 6g fibre and 1g salt.
Ingredients
For the kale mashed potato
575g/1lb 4½oz floury potatoes, preferably Maris Piper or King Edward, peeled and cut into roughly 5-cm/2-in chunks
25g/1oz butter
4 tbsp semi-skimmed milk
100g/3½oz kale, trimmed, hard stalks removed, roughly chopped
sea salt and freshly ground black pepper
Method
Preheat the oven to 180C/160C Fan/Gas 4. Season the beef well with salt and pepper.

Heat half of the oil in a large, non-stick frying pan and fry the beef in two batches for 2–3 minutes, or until browned on all sides. Transfer to a casserole dish using a slotted spoon or spatula once each batch is done.

Add the remaining oil and the onions to the pan and fry over a medium–high heat for 4–5 minutes, or until lightly browned. Place the onions into the casserole dish and sprinkle with the flour and dried herbs. Toss well together.

Pour the red wine and stock into the casserole dish and add the tomato purée and bay leaf. Stir well and bring to a simmer on the hob. Cover with a lid and bake in the oven for 1½ hours.

Carefully remove the casserole from the oven and stir in the carrots and mushrooms. Cover and bake for a further 45 minutes, or until the beef and vegetables are just tender.

Meanwhile, to make the kale mashed potato, place the potatoes into a large saucepan and cover with cold water. Bring to the boil and cook for about 15 minutes, or until very tender. Drain well then return to the saucepan. Mash with the butter and milk until smooth. Season with salt and pepper.

Place the kale into a saucepan and add 500ml/18fl oz water. Cover with a lid and bring to the boil for 5 minutes, or until tender, removing the lid and stirring the kale three or four times as it cooks. Drain well then stir into the mash.

Serve the kale mash alongside the casserole, garnished with the parsley.