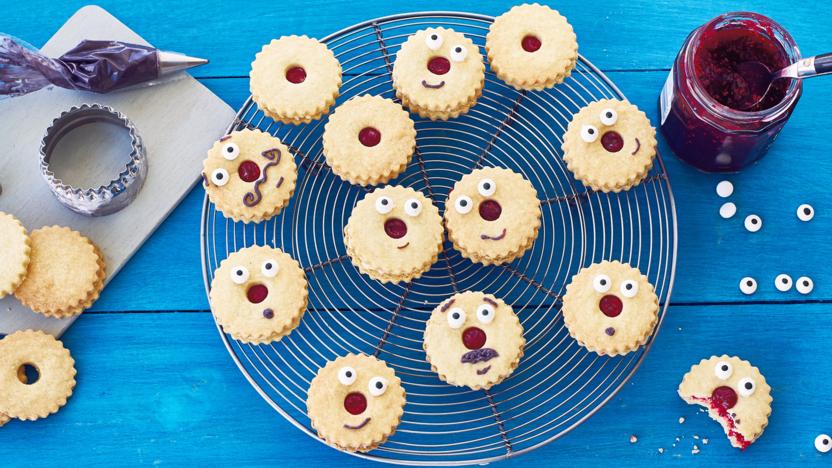 Sarah Brown's jammy dodgers are perfect for a Red Nose Day bake sale. Guaranteed to put a smile on everyone's face.
Ingredients
For the shortbread
For the buttercream
To decorate
Method
Preheat the oven to 180C/170C Fan/Gas 4. Grease two baking trays and line with parchment.

Cream the butter and sugar together in a bowl until pale and fluffy. Gradually sift and fold in the flour, cornflour and salt gradually until it binds together. Tip on to a lightly floured work surface. Knead together (take care not to overwork it). Wrap in cling film and put in the fridge for 15 minutes.

Flour a work surface and roll the dough to 6mm/¼in thick. Use a small cookie cutter to cut 48 circles. Use an apple corer to cut out a small circle in the centre of 24 of the biscuits. Place on the prepared baking trays and chill in the fridge for 5 minutes.

Bake for 15 minutes, or until the edges are just starting to brown. Leave to cool on the baking tray for a minute before carefully transferring to a wire rack to cool completely.

For the buttercream, cream the butter in an electric mixer until light and fluffy. Add the icing sugar, cream and vanilla extract and mix well. Place two spoonfuls of icing in a small piping bag.

To assemble, spread the biscuits without holes with a bit of icing. Spread half a teaspoonful of jam on top. Place a biscuit with the centre cut out on top and push down very gently. Stick the eyes on with a little piped buttercream. Repeat this process with the remaining shortbread, buttercream, jam eyes to make 24 sandwiches. Use coloured icing to draw on a mouth, eyebrows, mustaches, or whatever you like!
Recipe Tips
The dough is very short and crumbly so be patient and roll out gently.
This recipe is from...
Recipes from this episode