Red-red stew with spiced plantain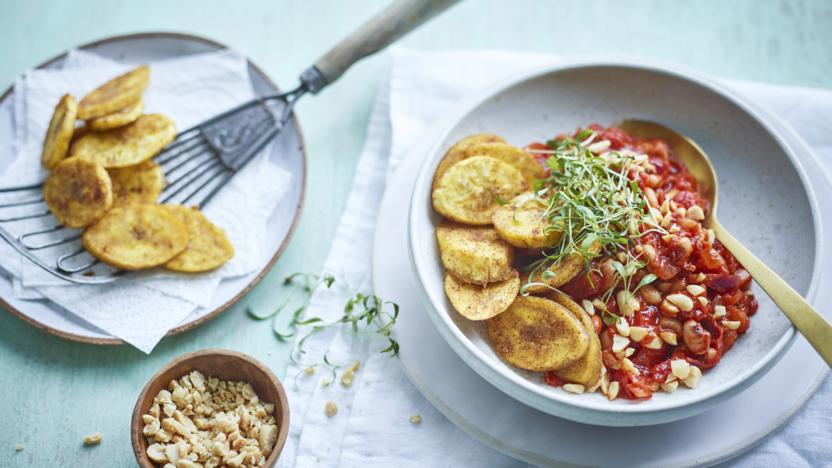 Traditionally a red-red stew is made with palm oil and tomatoes. We've updated this version of the common Ghanaian dish to use vegetable oil.
Ingredients
For the kelewele dry spice mix
For the stew
For the spiced plantain
To serve
handful micro coriander cress
1 red chilli, thinly sliced
handful nasturtium flowers and leaves
Method
Mix the ingredients for the kelewele dry spice mix together in a lidded jar and set aside.

If using dried beans, rinse and place in a large saucepan, cover with water and bring to the boil, then simmer for at least 1 hour until the beans are tender.

Heat the oil in a large saucepan over a low-medium heat. Add the onion, ginger, chilli flakes and scotch bonnet and fry gently until the onion is translucent.

Add the curry and chilli powders and stir well. Add the tomatoes, tomato purée, salt and pepper and cook for 45–60 minutes.

Add the beans, reduce the heat and cook for 30 minutes, stirring occasionally, until the beans are tender and the tomatoes have lost their sharp taste.

For the spiced plantain, mix the dry spice mix with the onion, ginger, salt and 2 tablespoon of oil in a bowl.

Coat the plantain in the spice mix and leave to marinate for at least 20 minutes.

Preheat a deep-fat fryer to 180C. (CAUTION: hot oil can be dangerous. Do not leave unattended.) Fry the plantain chips in batches until they float to the surface and are an even golden colour. Remove with a slotted spoon and drain on kitchen paper.

To serve, spoon the stew into large bowls and sprinkle the garri over the top. Serve the plantain on the side, sprinkled with the crushed peanuts.