Razor clams with diced vegetables, chorizo, sautéed squid and wild herbs
Ingredients
For the razor clams
8 razor clams, washed well under running water to remove any grit
2 shallots, peeled, finely chopped
110ml/4fl oz white wine
2 tsp vegetable oil
1 carrot, peeled and cut into 0.5cm/¼ cubes
1 courgette, peeled and cut into 0.5cm/¼ cubes
1 fennel bulb, cut into 0.5cm/¼ cubes
110g/4oz cooking chorizo, cut into 0.5cm/¼ cubes
110ml/4fl oz whipping cream
110g/4oz broad beans (podded weight), pods removed, inner membranes removed
50g/2oz finely chopped fresh chives or parsley
3 anchovy fillets, finely chopped
1 lemon, zest and juice
25g/1oz unsalted butter
110g/4oz squid, cleaned, spines and beaks removed, flesh cut into triangles
salt and freshly ground black pepper
For the garnish
Method
Heat a pan with a tight-fitting lid over a high heat. When the pan is hot, add the razor clams, shallots and white wine and immediately cover the pan with a lid so that the clams steam.

Steam the razor clams for 30 seconds, at which point they should all spring open.

Strain the cooking liquid from the steamed razor clams into a clean pan. Set aside.

When the razor clams are cool enough to handle, remove the clam flesh from the shells using your hands (reserve the shells). Discard any razor clams that have not opened fully during cooking.

Slice the cooked razor clam meat thinly at an angle, then set aside.

Heat one teaspoon of the vegetable oil in a frying pan over a medium heat. When the oil is hot, add the chopped carrot, courgette and fennel and fry gently for 3-4 minutes, or until softened. Set aside.

Return the reserved cooking liquid to the heat and bring to a simmer. Continue to simmer the mixture until the volume of liquid has reduced by half.

Add the chopped chorizo, cream, cooked carrots, courgettes and fennel, the broad beans, fresh chives or parsley and anchovy fillets to the cooking liquid. Stir well. Continue to simmer the mixture until it has thickened slightly.

Add the sliced razor clams, lemon zest, lemon juice and butter to the mixture. Stir well until the butter has melted.

Heat the remaining teaspoon of vegetable oil in a frying pan over a high heat. Season the squid meat, to taste, with salt and freshly ground black pepper. When the oil is smoking, add the seasoned squid to the pan and fry for 1-2 minutes, or until the flesh has turned opaque. (NB: Do not overcook or the squid meat will be tough.)

To serve, place two razor clam shells into each of two serving bowls (discard the remaining shells). Place pieces of the razor clam and squid meat into each of the shells, then spoon over the vegetables and sauce. Garnish with the fresh herbs and edible flowers, if using.
This recipe is from...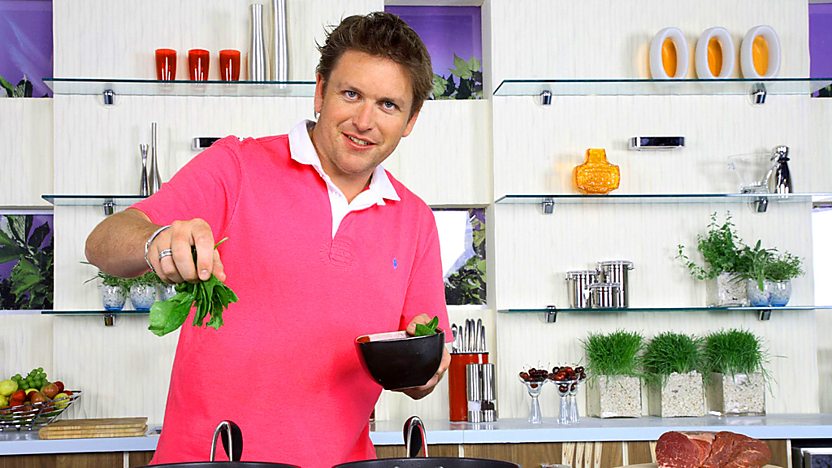 2007-16
Episode 102
Recipes from this episode