Ras-el-hanout chicken wraps with a yoghurt sauce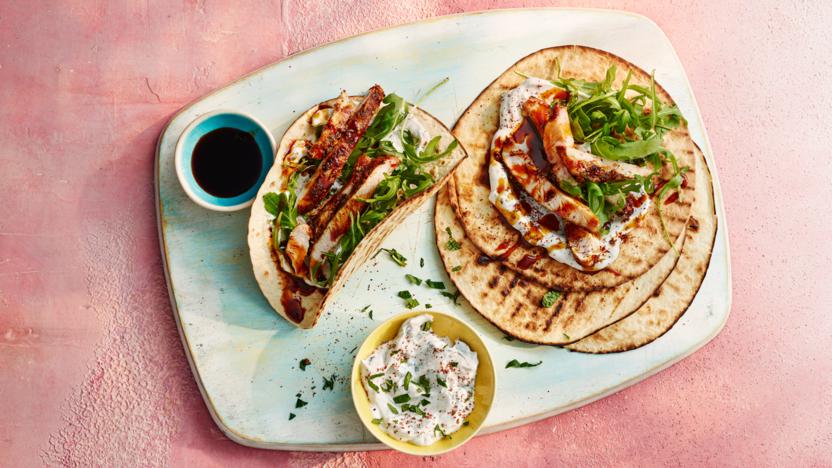 Looking for a very easy but properly delicious supper? Try these Middle-Eastern inspired chicken wraps.
Ingredients
For the ras-el-hanout chicken wraps
For the yoghurt sauce
Method
For the ras-el-hanout chicken wraps, cut the thick side of each chicken breast horizontally to even out the thickness of each breast and ensure they cook evenly. In a small bowl, mix the ras-el-hanout with 4-5 tablespoons of the olive oil to create a paste. Smear the paste over the chicken breasts, ensuring they are well coated. Season each breast with a pinch of sea salt, cover with cling film and place in the fridge to marinate for at least 10 minutes and up to a few hours.

To make the yoghurt sauce, put the yoghurt, fresh mint and sumac in a small serving bowl. Season with a generous pinch of sea salt and some black pepper. Mix well until the sumac and mint are evenly incorporated.

For the ras-el-hanout chicken wraps, preheat a large frying pan over a medium heat. Add the remaining olive oil and the chicken breasts (you may want to use two pans at a time if cooking all four chicken breasts at once). Fry the chicken for about 8-10 minutes on one side and 6-8 minutes on the other side. You can check how cooked the chicken is by prodding the fattest part of the chicken strips with your finger - if it feels very springy then it needs to cook a bit longer. Check the chicken is cooked by piercing the thickest part with a skewer or small knife. If the juices run clear and the flesh is no longer pink then the chicken is cooked and ready to serve. Place your cooked chicken on a chopping board and allow to rest for a few minutes before slicing into strips.

To serve, put a few strips of chicken on each tortilla wrap, add a dollop of the yoghurt sauce and then drizzle with pomegranate molasses. Add some rocket or lettuce leaves, roll up the tortillas and serve.