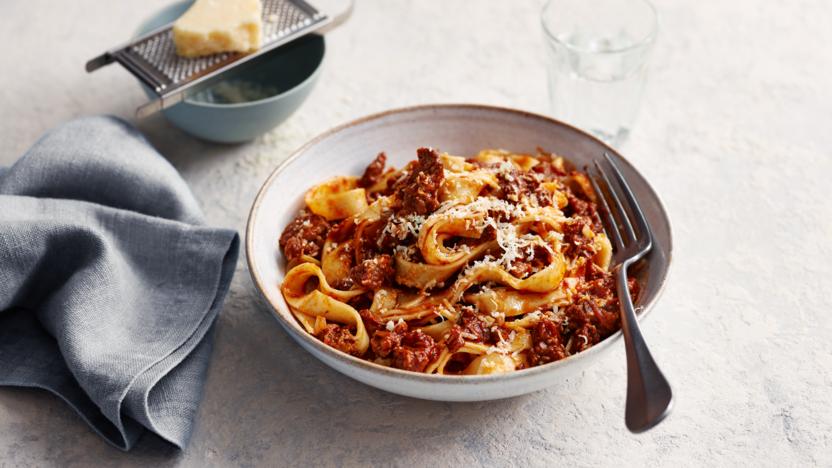 This slow-cooked beef ragù is perfect for batch-cooking and because it's cooked in the oven it's low effort. Serve three tablespoons of ragù to every 100g/3½oz serving of fresh pasta.

Method
Preheat the oven to 180C/160C Fan/Gas 4.

In a large, heavy-based, ovenproof saucepan or casserole, heat the olive oil over a medium heat. Season the beef, add to the pan and brown on all sides. Remove the beef and set aside.

Add the onion, garlic, celery and rosemary to the pan and cook until soft. Return the meat to the pan, add the red wine and bring to the boil. Stir in the tomato passata and cover the surface of the ragù with a circle of baking paper. Bake for 2½ hours or until the meat is very tender.

Remove the baking paper and break up the meat using a fork. Season with salt and pepper and set aside.

To serve, cook the pappardelle in salted boiling water according to the packet instructions, or until al dente.

In a sauté pan, mix 3 tablespoons of the ragù per portion of pasta with a tablespoon of the pasta water. Cook on a low heat and toss together until the sauce clings to the pasta.

Serve with grated Parmesan cheese and freshly ground black pepper.