Authentic ragù alla bolognese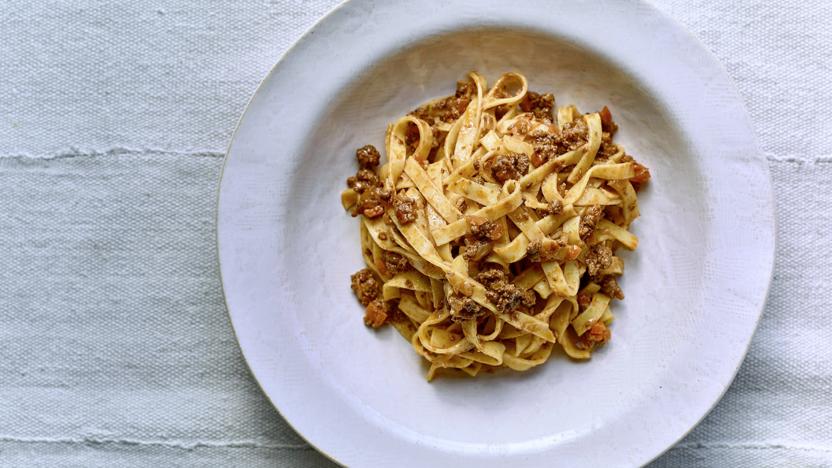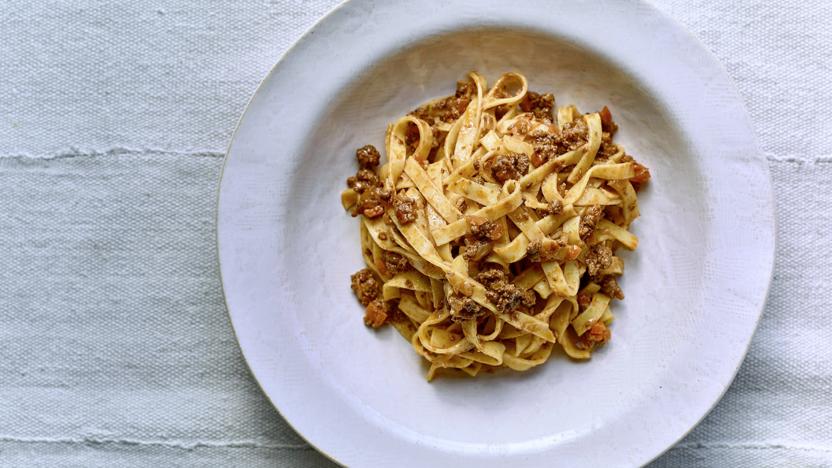 Ragù is the perfect example of Bolognese cooking: rich yet well balanced, lavish yet restrained, meaty yet fresh-tasting. This recipe follows closely the precepts of a classic ragù, but is lighter on fat. It is important to chop the vegetables finely, so that they are the size of grains of rice.
Method
Heat the butter and oil in a heavy-based saucepan. Add the garlic and cook for 1 minute, then remove it. Add the pancetta and cook for 5 minutes, stirring often. Add the onion and, when it begins to soften, stir in the carrot, celery and bay. Cook for 10 minutes, stirring often.

Add the beef, turn the heat up to high and cook until medium-brown and nearly crisp, crumbling it in the pot using a fork. You need a high heat so that the meat browns rather than stews, but be careful not to let it become too brown and hard.

Add the tomato purée and cook for 2 minutes. Add the wine, nutmeg and stock. Bring to the boil, then turn the heat down to very low, so that the mixture reduces very slowly.

Set the lid askew over the pan and cook for about 2 hours, adding a couple of tablespoons of milk from time to time. By the end all the milk should have been added and absorbed, and the ragù should be rich with the texture of thick soup.

Taste and adjust the seasoning. The ragù is now ready. Boil the tagliatelle and serve with the ragù.
This recipe is from...
Recipes from this episode