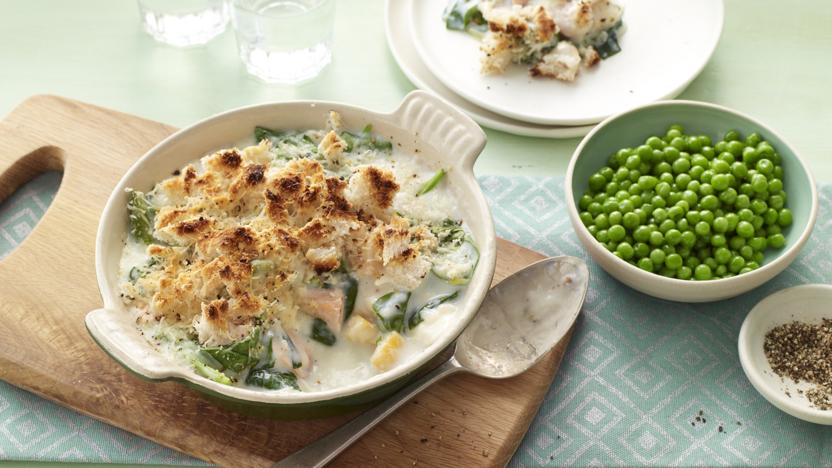 This simple and tasty fish gratin is so easy to make and really quick to prepare. It's also great for a low-calorie diet.

Each serving provides 446 kcal, 43g protein, 39.5g carbohydrates (of which 8g sugars), 12g fat (of which 4.5g saturates), 3.5g fibre and 1.5g salt.
Method
Place the cornflour into a small bowl and stir in 3 tablespoons of the milk until it forms a smooth paste.

Pour the remaining milk into a non-stick saucepan. Add the fish, spinach and lemon zest, if using, to the pan and season with a little salt and pepper. Bring the milk to a gentle simmer and cook for 3–4 minutes, or until the fish is beginning to flake, stirring occasionally.

Stir in the cornflour mixture and cook for 1 minute, or until the sauce has thickened. Stir constantly, taking care not to break up the fish pieces too much. Taste and adjust seasoning, if necessary. Spoon into a warmed, shallow flameproof dish or two individual pie dishes.

Preheat the grill to high. Tear the bread into small pieces and toss in a small bowl with the Parmesan. Scatter over the fish.

Place the dish or dishes onto a baking tray and place under the hot grill for about 2 minutes, or until the topping is crisp and lightly browned – watch carefully so it doesn't burn.

Place the peas into a saucepan of boiling water and cook for 2–3 minutes, or according to packet instructions. Drain well and serve immediately with the pie.