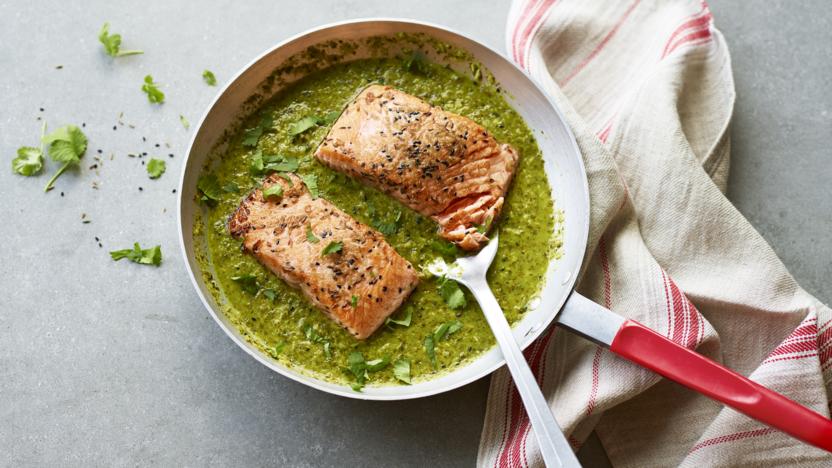 Use your favourite fish to make this quick coconut curry – the fish is coated in a spice rub then pan-fried to deliver maximum flavour.

For this recipe you will need a food processor or blender.

Ingredients
For the rub
For the fish
For the sauce
Method
Mix all the ingredients for the spice rub and sprinkle 1 tablespoon of it over the fish fillets. Rub in gently until lightly coated all over, then set aside.

To make the sauce, heat a tablespoon of the oil in a medium non-stick saucepan. Gently fry the onion, ginger and garlic for 5 minutes, or until softened and beginning to colour, stirring regularly.

Put the remaining rub, the fried onion mixture, 1 teaspoon salt and all the remaining ingredients for the sauce in a food processor or small blender and blitz until smooth. You will need to remove the lid a couple of times and push the mixture down with a spatula.

Pour the sauce into a small non-stick frying pan and cook gently for about 8–10 minutes, or until all the flavours have blended together, stirring occasionally. Add a little water if the volume of liquid reduces too much before the sauce is ready.

Meanwhile, cook the fish. Place a non-stick frying pan over a medium heat and, when hot, add 2 teaspoons oil. Cook the fish for 3–4 minutes on each side, then transfer to the pan with the sauce and cook for a further 2–3 minutes, or until just cooked, adding extra water or coconut milk if needed. Serve with freshly boiled basmati rice.
Recipe Tips
You can use any fish you like for this recipe. White fish fillets, such as cod or haddock, also work well. You could try making it with large raw prawns too, adding for the final simmering rather than pre-frying.
This recipe is from...
Recipes from this episode