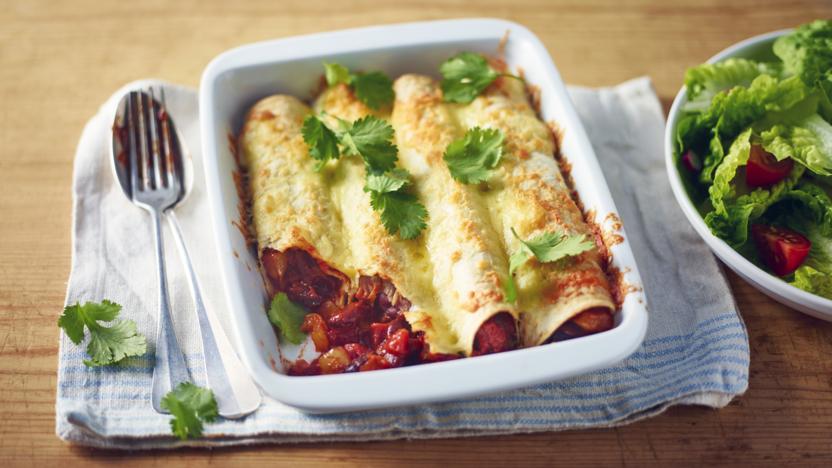 These vegetarian enchiladas are a money-saving gem and they take just a few minutes to make.

This meal provides 648 kcal, 28g protein, 74g carbohydrate (of which 15g sugars), 26g fat (of which 12g saturates), 18g fibre and 3.2g salt per portion.
Method
Heat the oil in a large non-stick frying pan over a medium heat. Add the onion and peppers and fry for 3–4 minutes, or until softened and beginning to turn golden-brown. Stir in the chopped tomatoes and kidney beans.

Bring the mixture to the boil, then reduce the heat until the mixture is simmering. Simmer gently for 10 minutes, or until the sauce is thick and glossy.

Remove the pan from the heat, then stir in the lime juice (or lemon juice) and coriander. Season, to taste, with salt and plenty of freshly ground black pepper.

Preheat the oven to 200C/180C Fan/Gas 6.

Brush the insides of a shallow ovenproof dish all over with a little oil. Place one of the flour tortillas in the dish and spoon one-quarter of the bean mixture into the centre. Roll up the tortilla and push it to one side of the dish. Repeat the process with the remaining flour tortillas and bean mixture, lining the rolled tortillas up against each other.

Sprinkle the enchiladas with the grated cheese and bake in the oven for 20 minutes, or until the cheese has melted and turned golden-brown. Just before serving, garnish the enchiladas with fresh coriander.

To serve, divide the enchiladas equally among the serving plates. Serve with a mixed green salad.
Recipe Tips
Tip 1: This dish is not suitable for freezing. However, any leftover tortillas can be frozen for another recipe.
Tip 2: Frozen onions might be more expensive than fresh, but they save time and reduce waste.
Tip 3: If you can't get hold of red kidney beans in chilli sauce, use plain red kidney beans and add ½ tsp hot chilli powder, 1 tsp ground cumin and 1 tsp ground coriander to the onion mixture before adding the tinned tomatoes and drained kidney beans.