Grilled vegetable wraps with salsa and guacamole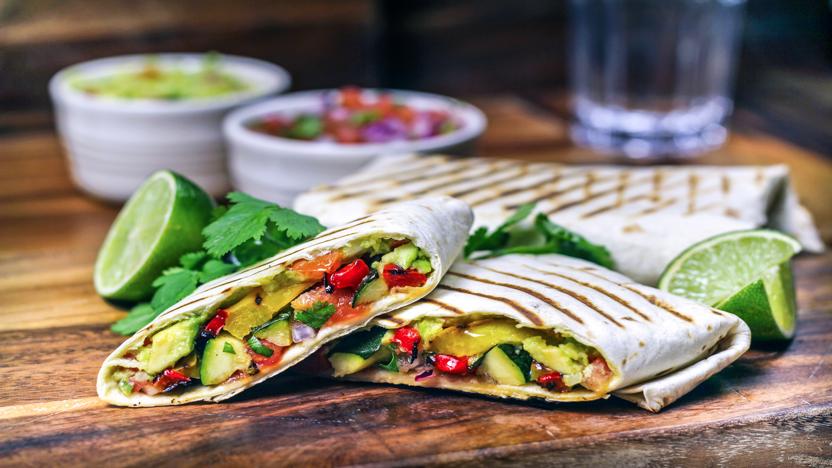 A Friday night quick supper that's healthy and delicious - who could ask for anything more?

Each serving provides 617kcal, 15g protein, 80g carbohydrate (of which 14g sugars), 23g fat (of which 8g saturates), 15g fibre and 1.8g salt.
Ingredients
For the salsa
For the guacamole
2 ripe avocados, peeled and stoned
1 lime, juice only
1 clove of garlic, peeled and crushed
1 small onion, peeled and finely chopped
3 small tomatoes, seeded and chopped
¼ fresh green chilli, de-seeded and finely chopped
1 tbsp fresh coriander, finely chopped
For the quesadillas
Method
To make the salsa, mix the tomatoes, garlic, onion, chilli and coriander together and leave for about 30 minutes at room temperature to allow the depth of flavour to develop.

To make the guacamole, mash the avocados with the lime juice.

Add the garlic, onion, tomato, chilli and coriander and mix thoroughly to combine.

To make the quesadillas, heat a chargrill pan over a medium to high heat, add the courgette slices and peppers and grill for 10-15 minutes or until softened and chargrilled in places. Remove the griddled vegetables from the pan and cut into strips.

Spread one tablespoon each of guacamole and salsa onto four tortillas.

Divide the vegetables between the four tortillas. Wrap them up and return them to the chargrill pan for one minute on each side.

Open the quesadilla slightly to serve, garnished with coriander leaves and wedge of lime.