Easy vegetarian quesadilla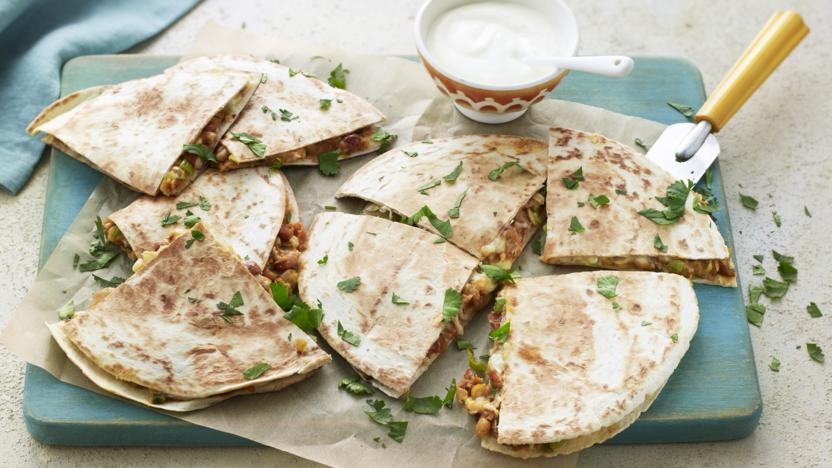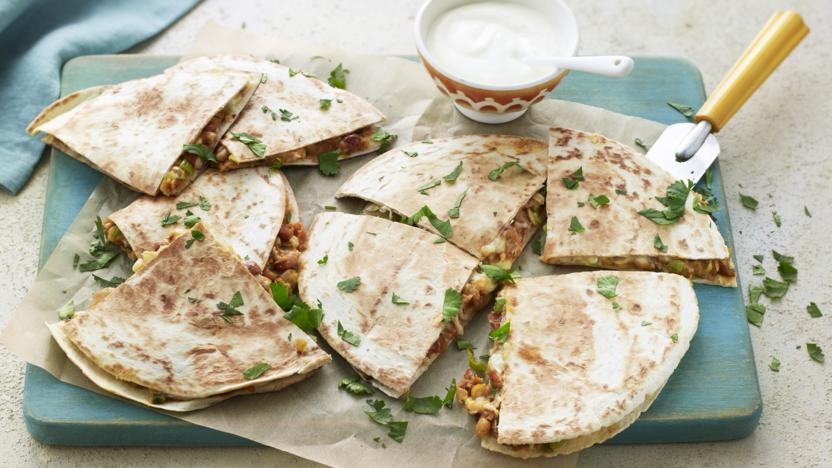 Super easy, cheap and quick to make, quesadillas are what you need when you're so hungry you could eat your own face. You've probably got all the ingredients for these veggie quesadillas in your cupboard and fridge right now.

Each serving provides 882 kcal, 36g protein, 88g carbohydrates (of which 8g sugars), 40.5g fat (of which 19g saturates), 11g fibre and 2.8g salt.
Method
Heat the oven to 120C/100C Fan/Gas ½.

Heat ½ tablespoon of oil in a frying pan over a medium heat. Add the spring onions and cook for 2 minutes, until beginning to soften. Add the beans and the chipotle paste stir well. Using a potato masher or fork, crush the beans to a rough purée. Transfer the beans to a plate and wipe out the pan.

Add half a tablespoon of the oil to the pan over a low heat and gently wipe with a piece of kitchen paper. Put one tortilla in the pan and top with an even layer of grated cheese. Spoon over half the bean mixture and top with another even layer of cheese (the cheese acts as glue). Place a tortilla on top of the cheese, then press down with a spatula and cook for 3–4 minutes, or until the underside is golden. Flip over the quesadilla and cook for a further 3–4 minutes.

Place on a baking tray and transfer to the oven to keep warm. Repeat step three with the remaining ingredients.

If making the sour cream dip, mix the soured cream and lime juice together in a bowl. Cut the quesadillas into quarters and drizzle over the lime soured cream. Sprinkle with the coriander, if using, and serve.