Pulled jackfruit coconut stew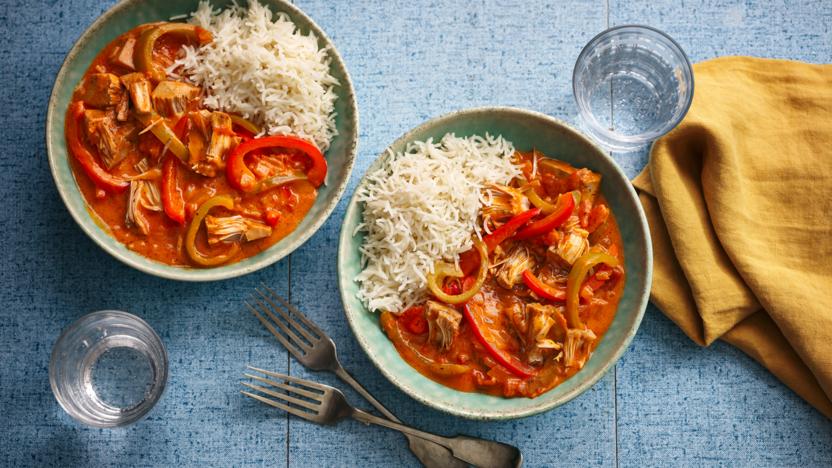 Jackfruit is a fantastic meat replacement. It absorbs flavours wonderfully and, in this coconut stew, takes on a variety of wonderful spicy flavours. Serve with freshly cooked rice.

Each serving (without the rice) provides 192 kcal, 4g protein, 13.5g carbohydrates (of which 10g sugars), 12g fat (of which 8g saturates), 7.5g fibre and 1.4g salt.
Method
Bring a saucepan of water to the boil, add the jackfruit and cook until tender (about 10 minutes). Drain well and pull into shreds using a fork. Season with the salt, black pepper, paprika, thyme and allspice and mix together. Set aside.

Meanwhile, heat the oil in a frying pan over a medium heat. Add the onion and garlic and cook for 3 minutes, until softened. Add the tomatoes and coconut milk and mix together, then add the whole chilli and cook for 15–20 minutes. Add the peppers, vegetable stock and jackfruit and cook until the sauce is reduced and the peppers are cooked. Take out the chilli before serving.

Serve in warmed bowls with the rice.
Recipe Tips
If serving this to a vegan, check that the vegetable stock is suitable for vegans.