Pulled chicken tacos with chocolate mole sauce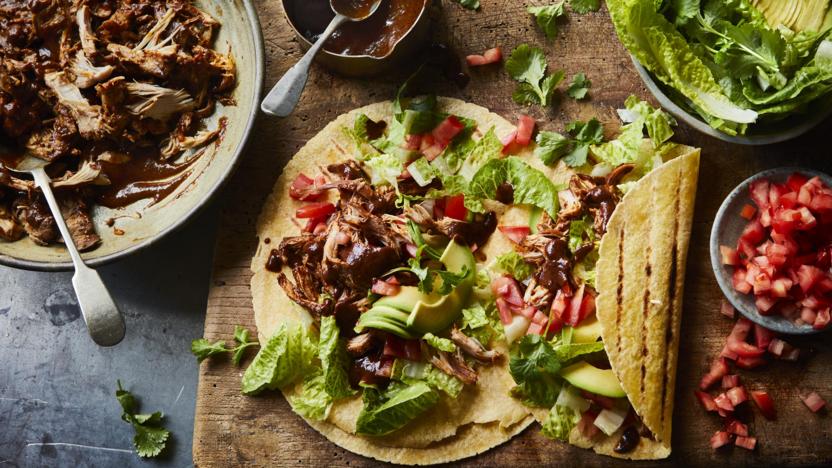 The subtle hint of dark chocolate in the sauce adds a depth of flavour and bitterness that is a welcome counterpoint to the richness of this dish.
Method
Cut the chillies in half, discard the stalks and membranes and remove and reserve the seeds. Toast the chillies in a frying pan until fragrant. Transfer to a heatproof bowl, cover with just-boiled water and set aside for 20 minutes.

Meanwhile, toast the reserved chilli seeds, the cumin, fennel and coriander seeds and the cinnamon stick in a frying pan over a medium heat for 1–2 minutes, or until fragrant.

Drain the chillies and reserve the soaking water. Transfer to a small blender or food processor. Add the toasted seeds, cinnamon stick, garlic and 5 tablespoons of the reserved soaking water. Blitz to make a smooth paste.

Heat a heavy, lidded frying or sauté pan until hot and add 2 tablespoons of the oil. Fry the chicken in batches for 3–5 minutes until lightly golden. Transfer to a plate with a slotted spoon.

Pour the remaining oil into the pan, add the onion and a pinch of salt. Turn down the heat and gently fry for 15 minutes until soft. Add the blended chilli mixture, chilli powder, oregano, tomato and chipotle paste to the pan. Stir over a medium–low heat for 3 minutes.

Stir the stock into the mixture in the pan, then return the chicken to the pan flesh-side down. Gently simmer on a low heat with the lid on but slightly ajar for 1 hour. Remove the pan from the heat and transfer the chicken to a plate with a slotted spoon. When cool enough to handle, remove the bones. Shred the meat and place in a large mixing bowl.

Pour the sauce into a food processor or blender and blitz until completely smooth (push through a sieve if necessary). Return to the pan and simmer until reduced to a thick sauce. Remove from the heat, add the vinegar and chocolate, and stir until melted. Taste and add more vinegar, chocolate or salt and pepper. Stir enough of the sauce through the chicken to generously coat.

To serve, fill the tacos with the chicken, avocado, tomatoes, lettuce and coriander, with extra sauce on the side.
Recipe Tips
Any leftover mole sauce will keep in the fridge for 3–4 days.
Wines
This rich pulled chicken in a chocolate mole sauce is wonderful served in soft corn tacos or with rice.