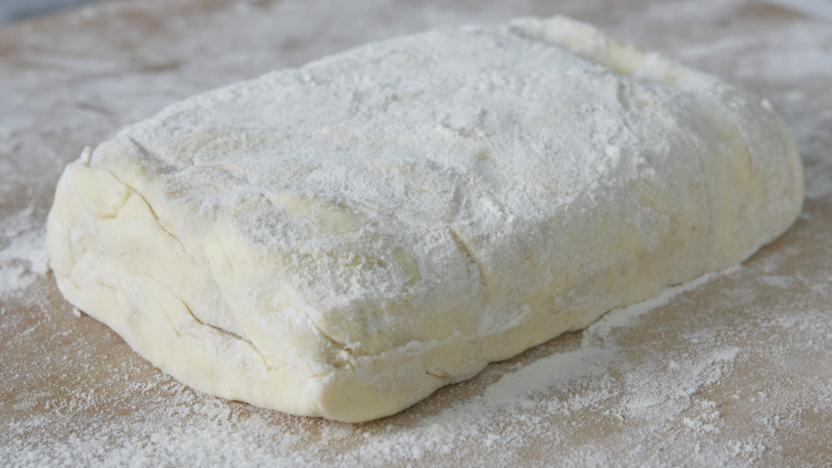 Yes, it's easier to buy puff pastry but where's the fun in that? Master this skill and you'll be sure to impress.
Method
Place the flour and salt in a large mixing bowl. Add the lard and use your hands to rub the lard into the flour. As you do this, lift the flour with your hands to get air into the mixture and keep it cool.

When the flour and lard mixture has the consistency of breadcrumbs, add the cold water. Mix it in with a palette knife to keep the mixture cool. When the mixture comes together to form a dough, turn it out onto a clean, floured surface and knead briefly until just smooth.

Form the dough into a rectangular block (this will make it easier to roll out later), wrap in cling film and refrigerate for 30 minutes.

Place the butter between two sheets of greaseproof paper and tap with a rolling pin to form a flattened block about one-third the size of the pastry.

Roll the dough out onto a clean, floured surface into a rectangle about 16cm x 30cm/6in x 12in. Use a palette knife to keep the edges straight and dust the rolling pin and the surface well with flour to prevent sticking.

Visually divide the dough into three sections and mark the sections with a shallow notch at the edge with your thumb. The centre section is the section that will hold the butter, so carefully roll out the centre section with a rolling pin to make the edges slightly wider than those of the other two sections.

Remove the greaseproof paper from the butter (it should be firm room temperature at this stage) and place the butter in the centre of the pastry rectangle. Fold in the edges of the pastry and fold both ends into the centre, to completely enclose the butter. Form the pastry into a neat square.

Turn the pastry a half-turn and carefully roll out again into the same size rectangle as the one you started with. Fold the top and bottom of the rectangle into the centre, folding the pastry into thirds. Repeat the turning, rolling and folding process one more time. Place in the fridge to cool for 30 minutes.

Remove the pastry from the fridge, turn the pastry a half-turn since the previous rolling, roll out and fold once again. Repeat. Rest the pastry in the fridge for another ten minutes the remove it from the fridge and turn, roll and fold it twice more.

The pastry should have been turned, rolled and folded six times. If the pastry is still streaky, repeat the turning, rolling and folding process one more time. The puff pastry is now ready to use.