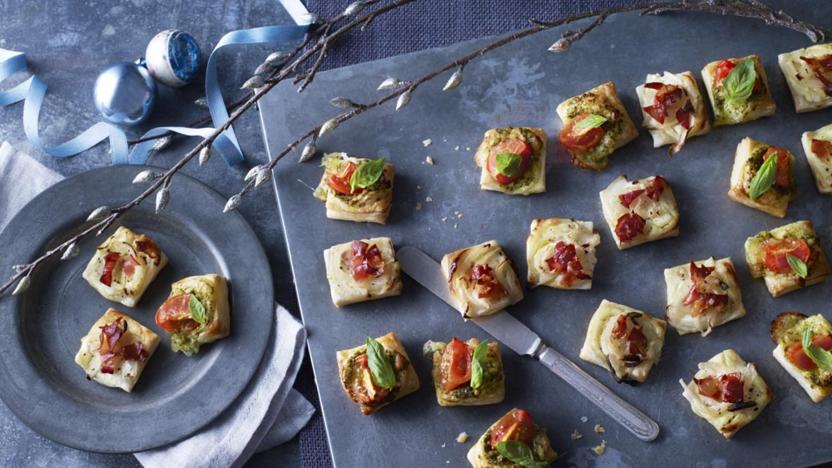 Bite-size pizzas with puff pastry bases make perfect party food. Here are two simple topping ideas to try.


Ingredients
For the pizza base
For the tomato and pesto topping
For the prosciutto topping
Method
Preheat the oven to 200C/180C Fan/Gas 6.

Lightly flour a work surface and unroll the puff pastry flat. Using a ruler and a pizza wheel, cut into 72 small, equally sized squares. Transfer the squares to 4 baking trays and brush each square with a little of the beaten egg, especially at the edges.

For the pesto bites, using a teaspoon, place a little pesto in the centre of each of 36 squares. Top with a quarter of a mozzarella ball and a quarter of a tomato. Season with salt and pepper.

For the prosciutto pizza bites, place the onions in a bowl and salt generously. (Salting the onions draws out their sharpness and begins to soften them.) Using a teaspoon, place a little sour cream in the centre of each of the remaining squares. Rinse the onions under running water. Drain well. Place a few slices of onion on each square. Divide the prosciutto between the squares, ensuring that a little fat gets on each piece.

Bake both types of pizza for 15 minutes, or until the pastry is puffed and golden-brown.

The tomato ones can be topped with a basil leaf if you want, and are best served hot. You can serve the white pizzas hot or cold.