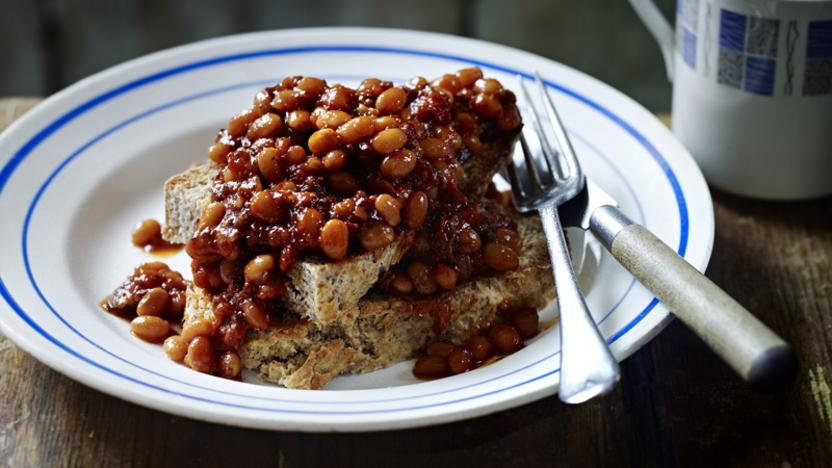 Baked beans on toast is a British staple, but you can very easily make it something special with a side of fresh soda bread. Don't be put off by the long cooking time - it's just a few minutes of effort and the rest of the time it takes care of itself.
Ingredients
For the baked beans
For the soda bread
Method
Drain the white beans and put them in a large pan. Cover with water and bring to the boil. Drain again and return to the pan. Cover with water and cook for approximately one hour, or until just soft. Remove from the heat and drain.

In a large saucepan, heat the rapeseed oil over a medium heat. Add the streaky bacon and fry until crisp. Add the onion and garlic to the pan and cook until the onion is soft. Add the tinned tomatoes, tomato purée, sugar, vinegar and 500ml/18fl oz water. Bring to the boil and then add the soaked beans. Reduce the heat to low and cook for 1½-2 hours, or until you have a thick sauce with soft tender beans

Meanwhile, make the soda bread. Preheat the oven to 200C/400F/Gas 6.

Mix all the ingredients together and form into a loaf shape of your choice.

Place on a baking tray, dust with flour and bake in the oven for 45-50 minutes, or until the loaf is golden-brown and sounds hollow when tapped.

Remove from the oven and leave to cool. Slice and toast when needed.

Season the beans with salt and pepper and serve with slices of toasted soda bread.
Recipe Tips
To save time you can use tinned white beans.
This recipe is from...
Recipes from this episode