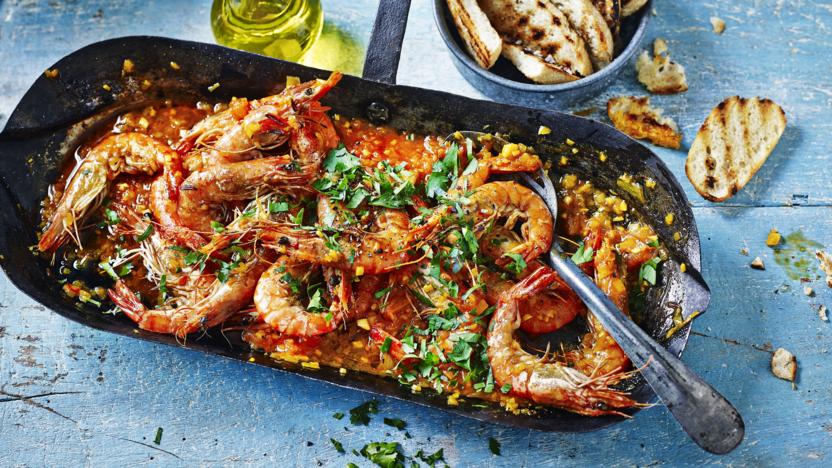 This wonderful seafood dish is traditionally made with scampi. Langoustine would be closest, but large prawns work well. In this case don't even think about shelling them before cooking – the joy is in sucking the juices out of the shells.
Method
Pour 70ml/2½fl oz of the olive oil in a frying pan and set over medium-high heat. Add the garlic and shallots.

When they are sizzling, stir in the tomato paste, chopped tomatoes, chilli flakes, saffron and ½ teaspoon of the salt. Cook for 5 minutes, stirring constantly to prevent the shallots and garlic burning, then add the wine and cook for a further minute.

Add 100ml/3½fl oz water and the remaining salt, bring to the boil. Stir, then reduce the heat and let the sauce simmer and reduce for 20 minutes.

Meanwhile, pour the remaining olive oil in another frying pan and set over a high heat. When the pan is really hot, fry the prawns for a minute, then remove from the heat.

With the sauce still bubbling, add the fried prawns and coat them well. Season well with black pepper, and add a tablespoon of the breadcrumbs. Use more crumbs if the sauce is too thin.

Cook for a further 2 minutes then turn off the heat. Drizzle over a little more olive oil. Sprinkle with parsley and serve immediately with crusty bread.
This recipe is from...
Recipes from this episode