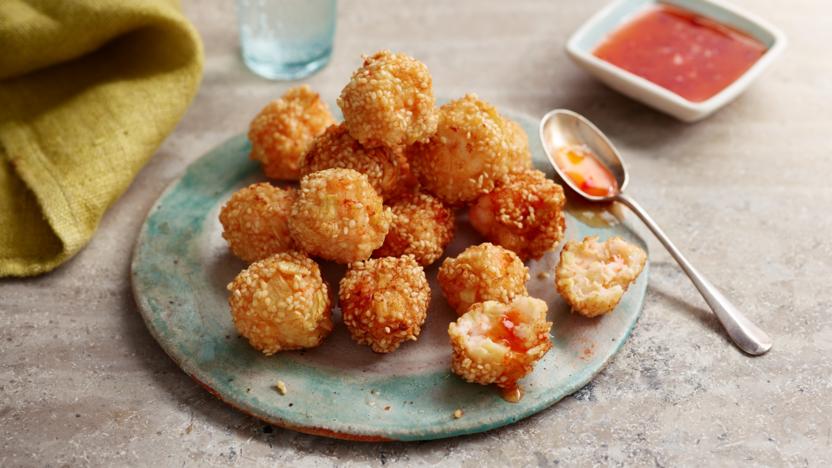 This is a homemade version of a Chinese takeaway classic. Serve them with soy sauce or sweet chilli sauce for dipping.

For this recipe you will need a deep-fat fryer.

Method
Clean the prawns by removing the black intestinal sack that runs down the back of each one. Very finely chop two-thirds of the prawns using a sharp knife (or blend to a paste in a food processor) and cut the rest into 1cm/½in cubes.

Mix the oyster sauce, groundnut and sesame oil, salt, ginger and bamboo shoots in a large pestle and mortar to make a paste. Stir in the finely chopped and the cubed prawns. Transfer to a bowl, cover and refrigerate for about an hour.

Preheat a deep-fat fryer to 180C. (CAUTION: hot oil can be dangerous. Do not leave unattended.)

To make the balls, shape spoonfuls of the prawn filling into 18 balls with lightly wetted hands. Put the sesame seeds in a bowl. Roll each prawn ball in the seeds to coat and transfer to a plate.

Carefully place up to six balls, one at a time, in the hot oil. Cook for 3½–4 minutes, or until golden brown and cooked through – the prawns will be completely pink when cooked. Cook the remaining balls in batches.

Carefully remove the cooked prawn balls using a slotted spoon and transfer to kitchen paper to drain. Serve the cooked prawn balls with dark soy sauce or sweet chilli sauce for dipping.
Recipe Tips
The balls can be prepared in advance and refrigerated until ready to cook.
This recipe is from...
Recipes from this episode