Pot roast pheasant with sweetcorn mash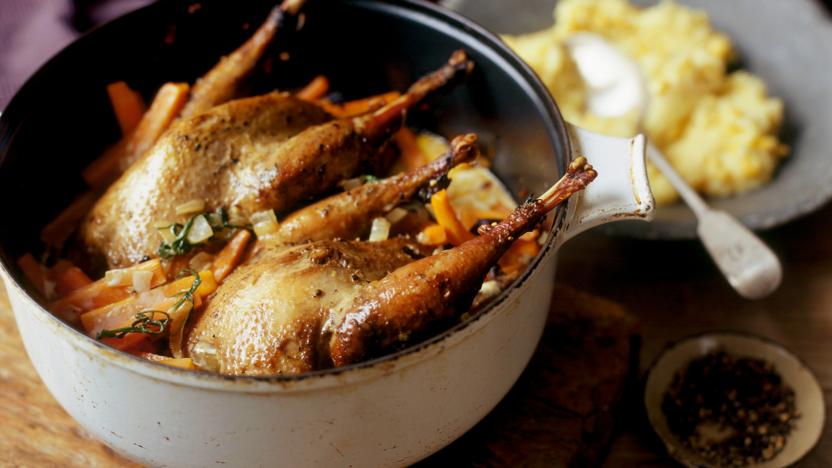 Pot-roasting pheasant keeps it deliciously moist. Potato and sweetcorn mash makes the perfect accompaniment.
Ingredients
For the pot roast
For the mash
200-250ml/7-9floz milk
1-2 generous pinches saffron
1.2kg/2lb 11oz large baking potatoes, baked until cooked through
45g/1½oz butter
180g/6½oz sweetcorn, cooked
salt and freshly ground black pepper
Method
For the pot roast, place a flameproof casserole large enough to take the pheasants and all the carrots over a high heat. Add the butter and the oil and melt together.

Add the pheasant and fry, turning regularly, until golden-brown all over, then remove from the casserole and set aside.

Reduce the heat, then stir the onion and garlic into the fat and fry gently for 3-4 minutes, or until tender.

Add the carrots and tarragon and stir around for 4-5 minutes, then return the pheasant to the pot, nestling it breast-side down in among the carrots.

Pour over the Riesling and season, to taste, with salt and freshly ground black pepper.

Bring up to the boil, then cover with a tight-fitting lid. Turn the heat down low and leave to cook gently for one hour, turning the pheasants over after 30 minutes.

Meanwhile, for the mash, place the milk into a saucepan and bring to the boil. Remove from the heat, add the saffron and set aside to infuse.

Cut the baked potatoes in half and scoop the flesh out into a clean saucepan. Add the butter and salt, to taste, and place over a low heat.

Gradually add the saffron milk, mashing continuously. Stop and assess the texture - if you prefer your mash softer and runnier then add more milk.

Add the sweetcorn and season, to taste, with salt and freshly ground black pepper.

To finish the pot roast, check that the pheasant is tender and cooked through, then lift out onto a serving plate and keep warm.

Add the cream to the casserole and simmer for two minutes. Season, to taste, with salt and freshly ground black pepper.

Spoon the sauce around the pheasants and serve the mash alongside.