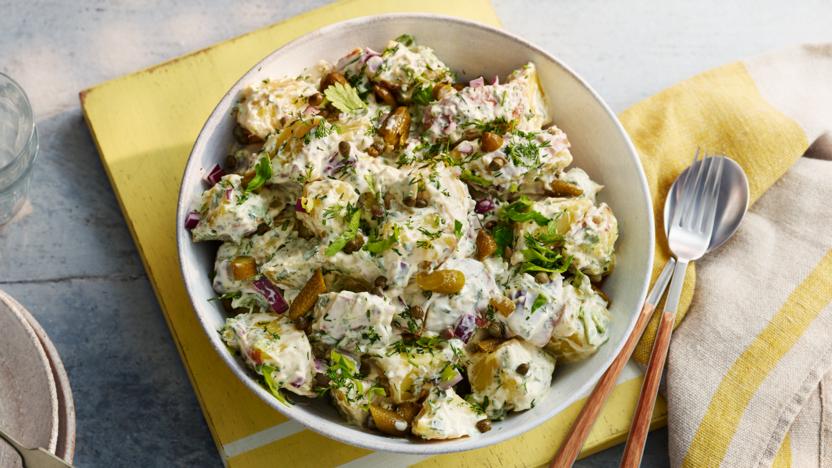 Potatoes love lovage: this celery-like garden herb is a match made in heaven with new potatoes. But you can always use fresh parsley if it's not available.
Ingredients
2 free-range egg yolks
2 tbsp Dijon mustard
1 lemon, juice only
1 tsp white wine vinegar
100ml/3½fl oz extra virgin olive oil
100ml/3½fl oz sunflower oil
7-8 cornichons, finely chopped
pinch freshly ground black pepper
2 tbsp capers, drained
1 large garlic clove, chopped
3 anchovies in oil, drained and chopped
small handful fresh dill, chopped
small handful fresh tarragon, chopped
small handful fresh lovage, chopped
½ small red onion, chopped
500g/1lb 2oz Pink Fir Apple potatoes, boiled until tender and cut into small chunks
Method
Put the egg yolks, mustard, lemon juice and white wine vinegar into a blender and blend to combine.

Combine the oils in a jug and carefully add to the blender in a thin trickle, blending continuously until the mixture has emulsified into mayonnaise.

Pour the mixture out into a bowl and add the chopped cornichons, black pepper, capers, garlic, anchovy fillets, dill, tarragon, lovage, onion and potatoes.

Mix all together and add salt to taste.
This recipe is from...
Recipes from this episode