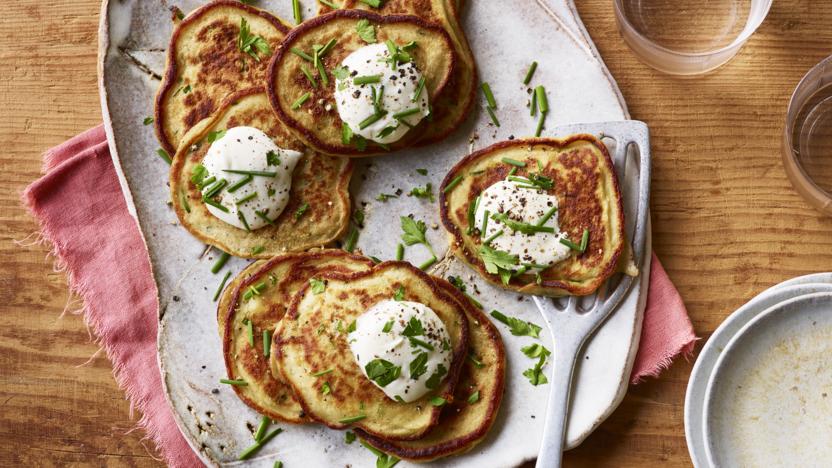 Leftover mashed potato might sound unappetising, but add a few store-cupboard staples and you've got the makings of a versatile potato pancake the whole family will enjoy. It's worth throwing an extra spud or two in the pot for dinner so you've got these brunch favourites to look forward to the next morning.

Each serving provides 274 kcal, 9g protein, 27g carbohydrates (of which 3g sugars), 14.5g fat (of which 5.5g saturates), 2g fibre and 1.4g salt.
Method
Put the mash, flour, baking powder and bicarbonate of soda in a large bowl. Whisk the eggs and 75ml/2½fl oz of the milk together in a bowl, then whisk gradually into the potato mixture until smooth, adding more milk if needed. Stir in the chopped spring onions or herbs and season with salt and pepper – if the mash was already seasoned, it might not need extra salt and pepper.

Heat a small dribble of oil and a tiny bit of butter in a large non-stick frying pan over a medium heat. Preheat the oven to its lowest temperature.

Spoon some of the mash mixture into the pan and spread out to create roughly 8cm/3¼in pancakes. Cook the pancakes for a minute or until the underside is golden brown and the top covered with bubbles. Flip and cook for another minute, or until both sides are golden and the pancakes are puffed up. Transfer to a baking tray and place in the oven to keep warm while you cook the rest, adding small amounts of oil and butter to the pan with each batch.

Serve immediately scattered with the extra herbs and dotted with soured cream or with your favourite toppings (see Recipe Tip for more ideas).
Recipe Tips
Any leftover pancakes can be wrapped in foil and reheated in a medium oven.
You can serve the pancakes with a variety of toppings, such as crispy bacon, scrambled eggs and baked beans; smoked salmon, soured cream and rocket; smashed avocado, lemon wedges and poached eggs; wilted spinach, roast cherry tomatoes and crumbled feta; or crispy kale, chilli sauce and fried eggs.