Potato drop scones with grilled bacon and tomato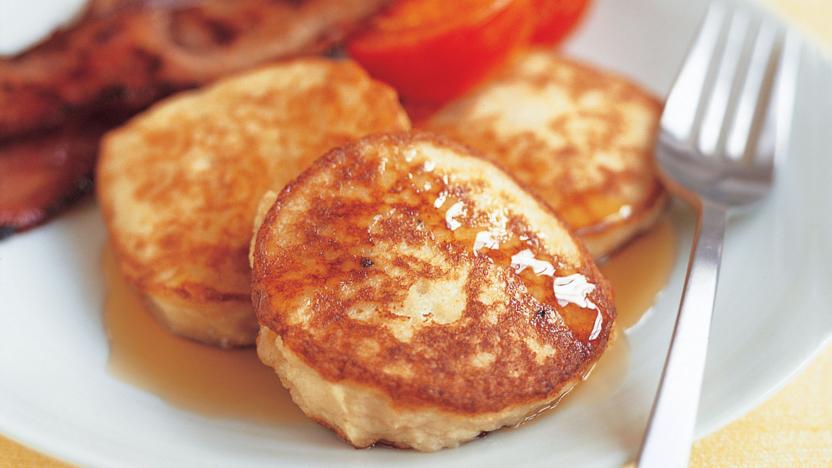 Potato scones make a great quick brunch. They are also a fantastic way of using up leftover potato.

This meal is low calorie and provides 328 kcal, 15.8g protein, 26g carbohydrate (of which 3g sugars), 18g fat (of which 5g saturates), 3g fibre and 2.6g salt per portion.
Method
Bring a pan of salted water to the boil, add the potatoes and cook for 15 minutes, or until completely tender. Drain well, return to the saucepan and mash until smooth. Leave to cool slightly.

Meanwhile, preheat the grill to medium-hot. Lay the bacon rashers on a foil-lined grill pan and cook for 5-6 minutes, or until slightly crispy. Season the tomatoes with salt and freshly ground black pepper and grill until soft. Keep warm.

Beat the baking powder into the mashed potato, then the eggs and milk. Season with salt and freshly ground black pepper. Continue to beat until everything is evenly combined.

Heat a little oil in a heavy-based frying pan. Drop heaped dessertspoons of the mixture into the pan, spacing them slightly apart, and fry for 3-4 minutes, turning once, until golden-brown.

Transfer to a serving plate and keep warm while frying the remainder of the potato mixture.

Divide the scones between four plates, topping each plate with two rashers and two tomato halves.
Recipe Tips
The scones can be grilled instead of fried. Simply put heaped dessertspoonfuls of the mixture on an oiled, foil-lined baking sheet and cook under a preheated grill for 5 minutes, turning once halfway through the cooking time.