Pot-roast chicken with root vegetables and barley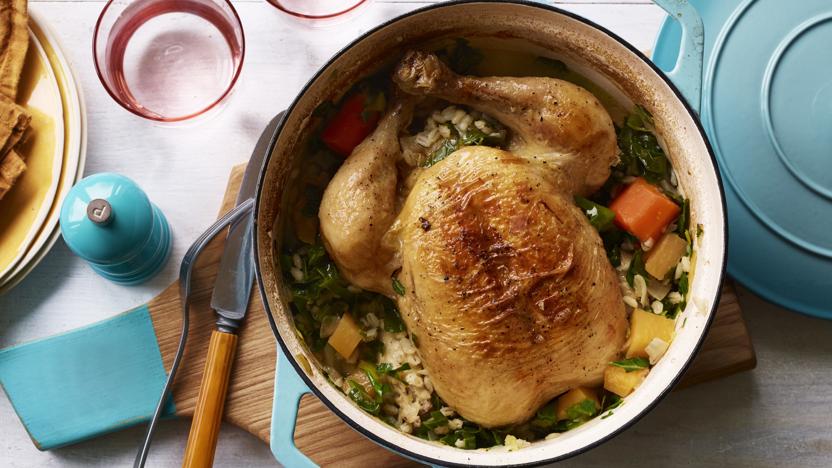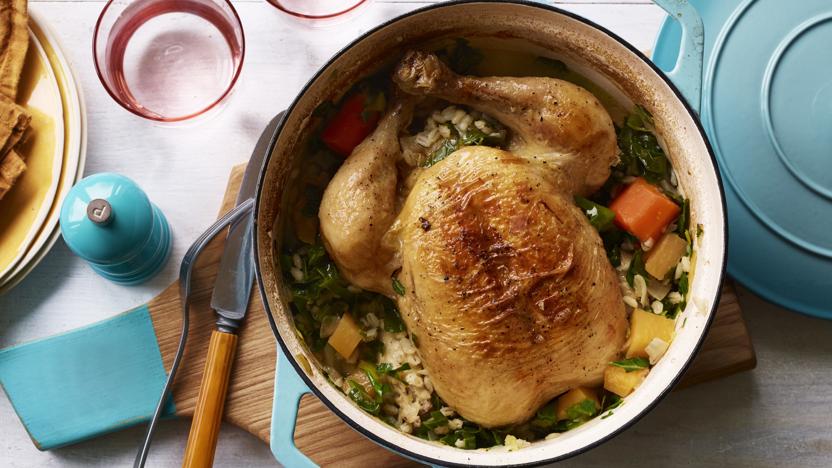 A roast dinner with hardly any washing up – the dream is real! This hearty, healthy pot-roast chicken recipe from Dr Rupy minimises food waste and costs just over £1 per portion.

Each serving provides 447 kcal, 57g protein, 17g carbohydrate (of which 13g sugars), 14.5g fat (of which 3.5g saturates), 10g fibre and 2.5g salt.
Method
Preheat the oven to 240C/220C Fan/Gas 9, or as high as it will go.

Put the chicken into a large casserole dish, drizzle with oil and season with salt and pepper. Roast for 15 minutes to brown the chicken, then remove from the oven and reduce the temperature to 220C/200C Fan/Gas 7.

Transfer the chicken to a plate, then put all the ingredients except the spring greens into the casserole. Lay the chicken on top and cover with the lid.

Set the casserole over a high heat for 3-4 minutes, until you hear the liquid in the bottom of the dish start to boil. Transfer to the oven and cook for 40 minutes, or until the chicken is cooked through completely.

Carefully remove the chicken from the pan with a pair of forks or tongs and set aside to rest for 15-20 minutes.

Meanwhile, stir the spring greens into the vegetables and pearl barley, cover with a lid and leave to stand while the chicken rests.

Carve the chicken and serve with the vegetables.
Recipe Tips
Take the chicken out of the fridge half an hour before you plan to cook it and pat it dry with kitchen paper.
If you don't have a large enough lidded casserole to hold the chicken, you can use a roasting tin and cover it tightly with foil.
This recipe is from...
Recipes from this episode