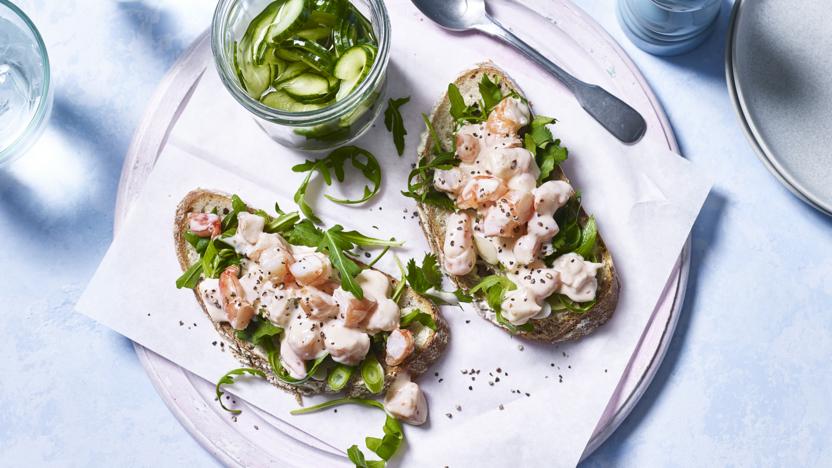 Succulent tiger prawns are coated in a Thai-influenced version of marie-rose sauce and combined with salad to make a pretty pink and green open sandwich.
Ingredients
For the sauce
For the sweet-sour cucumber (optional)
Method
Roughly chop the tiger prawns, mix with the lime juice and leave to marinate for at least 10 minutes and up to 30 minutes.

If you are making the sweet-sour cucumber, mix together the sugar and vinegar with 1 tablespoon of water and set aside. Cut the cucumber in half lengthways. Use a teaspoon to scoop out the centre and discard. Sprinkle the remaining cucumber well with salt and set aside for 10 minutes. Rinse off the salt, then pat dry with kitchen paper. Slice thinly and mix with the sweet-sour dressing.

To make the sauce, mix the sauce ingredients together in a small bowl, adding more or less chilli jam to taste. Stir through the prawns. Season with salt and pepper if necessary.

Mix together the coriander, spring onion and lettuce and place on top of the buttered bread. Top with the prawn mixture and a quarter of the sweet-sour cucumber (the rest can be covered and stored in the fridge; it is best eaten within 48 hours).