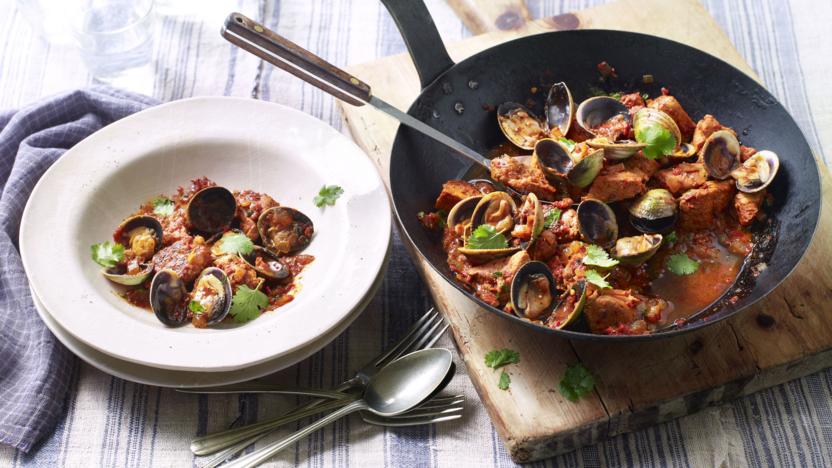 Pork and clams may seem like an unusual combination but it tastes delicious.
Ingredients
For the massa de pimentão
For the pork and clams
Method
Make the massa de pimentão in advance; it will keep for a couple of weeks in the fridge or can be frozen. Put the peppers in a glass bowl, layering them with the salt. Cover with cling film and leave for 24 hours at room temperature.

Preheat the oven to 150C/130C Fan/Gas 2.

Drain the peppers; put them on a baking sheet and slow-roast for about 1½ hours. Transfer to a bowl, cover and leave to cool slightly. Remove the skin and blitz the peppers to a paste in a food processor. Mix in the olive oil and store in a sterilized glass jar for up to 2 weeks.

Put the pork chunks in a bowl. Add the massa de pimentão, garlic and paprika and massage into the meat. Pour in the wine. Cover, transfer to the fridge and chill for 12–24 hours.

Strain the pork through a sieve or colander over a bowl and reserve the marinade. Heat 2–3 tablespoons oil in a large, shallow lidded casserole. Fry the pork in batches over high heat until browned all over. Reduce the heat to medium. Return all the pork to the pan along with the remaining olive oil and the onion and fry for 4–5 minutes, until the onion starts to soften.

Stir in the tomato paste and reserved marinade, turn up the heat to medium–high and bring to the boil. Continue to cook for 2 minutes, or until the liquid is reduced in volume by half. Add the clams to the pan (discarding any that do not close when given a sharp tap). Cover with a lid and cook for 3–5 minutes, or until the clams have steamed open.

Season to taste with salt and pepper. Discard any clams that do not open after cooking. Stir through three-quarters of the coriander, scatter with the remainder and serve at once.
This recipe is from...
Recipes from this episode