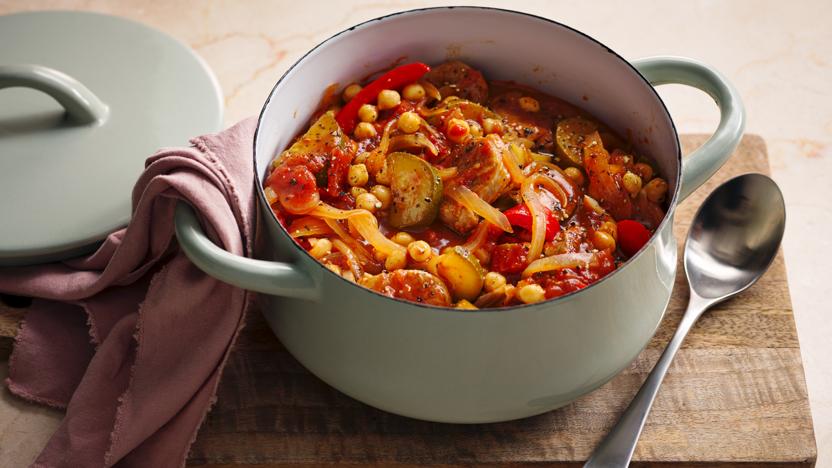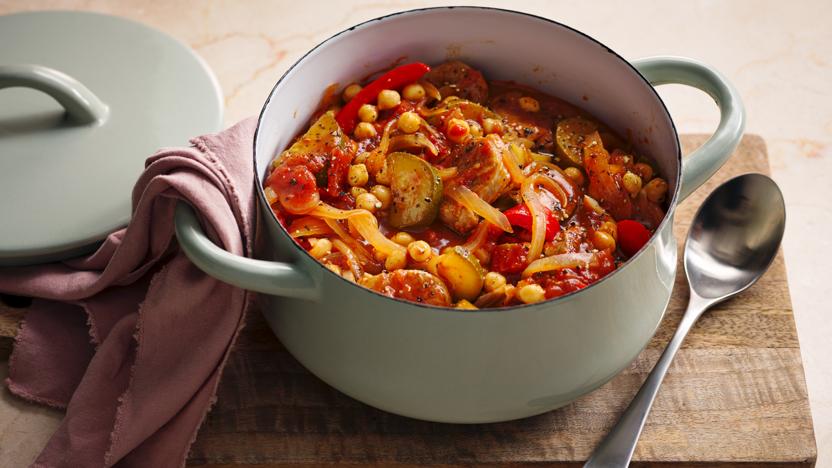 An easy pork and chickpea stew that looks as though you slaved over it all afternoon but it only takes 30 minutes! Full of hearty flavour and everything all in one pot!

See the tip at the bottom of the recipe for how to make a veggie version, too.
Method
Heat 1 tablespoon of the oil in a large non-stick frying pan or wide-based casserole.

Season the pork with salt and pepper and fry over a medium heat for 2 minutes until lightly browned. Remove from the pan and set aside on a plate.

Add the remaining oil, the onion, pepper and courgette to the pan. Cook for 5 minutes, or until softened and lightly browned, stirring regularly.

Add the garlic, paprika, chickpeas and tinned tomatoes. Half-fill the empty tomato tin with water and add to the pan (roughly 200ml/7fl oz water). Crumble in the stock cube and add the cooked pork. Bring to a gentle simmer for 10 minutes, or until the sauce has thickened and the pork is tender, stirring regularly.
Recipe Tips
For a vegetarian or vegan version of this stew, cook a large cubed aubergine instead of the pork in the first step, adding an extra tablespoon of oil once it begins to fry.