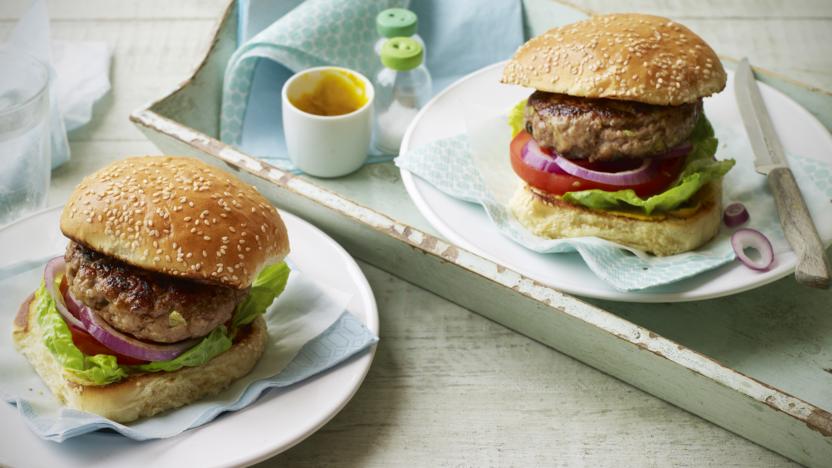 This pork burger recipe from Eat Well for Less makes enough for two meals so you can pop half in the freezer for a quick dinner. Try it as meatballs, too.

Each burger serving provides 300 kcal, 23g protein, 25g carbohydrates (of which 5g sugars), 12g fat (of which 4g saturates), 2g fibre and 0.5g salt. Each serving provides 378 kcal, 26g protein, 40g carbohydrates (of which 6g sugars), 12.5g fat (of which 4g saturates), 3g fibre and 0.3g salt.
Ingredients
For the meat mixture
To serve as burgers
To serve as meatballs
Method
Preheat the oven to 190C/170C Fan/Gas 5 and line a baking tray with foil.

Place all the meat mixture ingredients, into a bowl with a good pinch of salt and black pepper. Start mixing with a spoon then finish with your hands to get it totally mixed together.

Divide the mixture in half and place one half into a bowl or box, cover and place in the fridge until needed – it should be used within 2 days. Divide the rest into 4 and form into burger shaped patties.

Heat the olive oil in a frying pan until medium hot, then add the burgers and fry on each side for 45-60 seconds until just browned. Lift out and place onto the lined baking tray. Bake in the preheated oven for 15 minutes until cooked through and hot.

Served the burgers in the buns with mustard, lettuce, tomato and onion.

To cook meatballs, divide the mixture into 12 even pieces and roll into them into balls.

Heat a small frying pan until medium hot, add half the olive oil and the onion and cook for 4-5 minutes until just softened. You can cover the pan with a lid, turn the heat down low and let the onions steam until they're softened.

Meanwhile, heat a large frying pan until hot, add the remaining oil and brown the meatballs on each side until browned all over.

Remove the lid from the onion pan, add the tinned tomatoes and when they are simmering, add the browned meatballs. Cook over a gentle heat for 15 minutes until the meatballs are cooked through and the sauce has thickened slightly. Season with salt and black pepper.

While the sauce cooks, bring a pan of salted water to the boil. Add the pasta and cook according to packet instructions. Drain the pasta, reserving about 3-4 tablespoons of the cooking water, then add the pasta to the pan of sauce. Add the pasta water if the sauce needs thinning down. Stir well to coat the spaghetti in the sauce then cook for another couple of minutes. Serve immediately with grated Parmesan.
This recipe is from...
Recipes from this episode