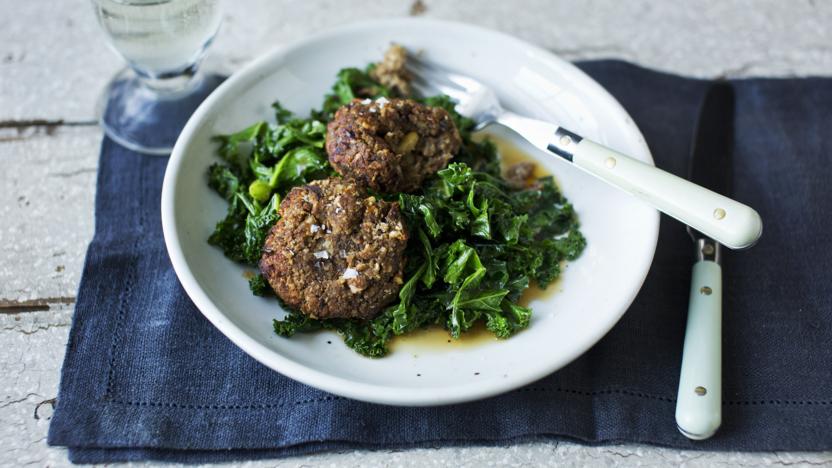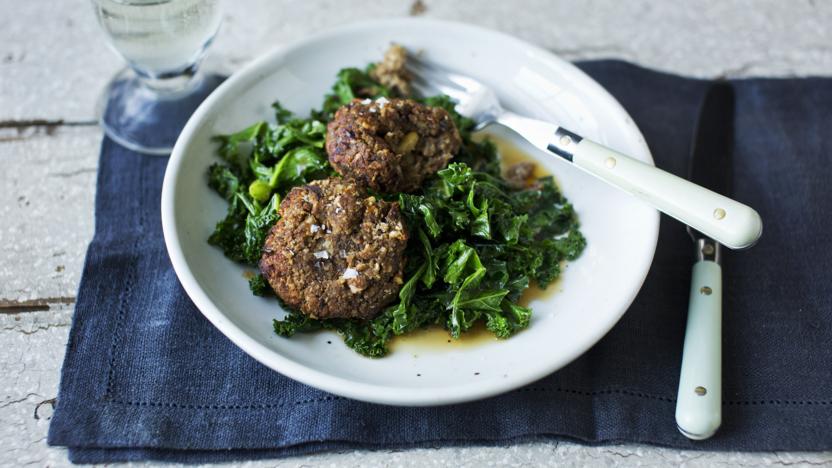 Nut roast doesn't have to be dry, leaden or worthy. These little patties have juicy, rich mushrooms and tasty macadamia nuts.

This meal, when served as 15 portions, provides 267kcal, 6g protein, 18g carbohydrates (of which 5g sugars), 18g fat (of which 1.5g saturates), 3.5g fibre and 0.4g salt per portion.
Method
Preheat the oven to 200C/400F/Gas 6. Grease a baking tray with oil.

Soak the porcini mushrooms in the water in a small bowl for ten minutes.

Add the chestnut mushrooms, chestnuts, flageolet beans and macadamia nuts to a food processor. Blend for a short amount of time, until you have a rough paste with a little texture.

Drain the porcini, reserving the soaking liquid (use this for another dish, like mushroom risotto or soup). Add the porcini to the food processor and blend again.

Tip the contents of the food processor into a large bowl and mix in the egg, honey and soy sauce. Finally, add the breadcrumbs and stir well.

Shape into patties using your hands and place onto the oiled baking tray. Bake in the oven for 25-30 minutes, but watch them carefully.

Meanwhile cook the kale in a covered pan with a few tablespoons of the reserved porcini stock for five minutes, or until tender.

Serve the nut roast patties with the kale alongside.