Poached peaches with zabaglione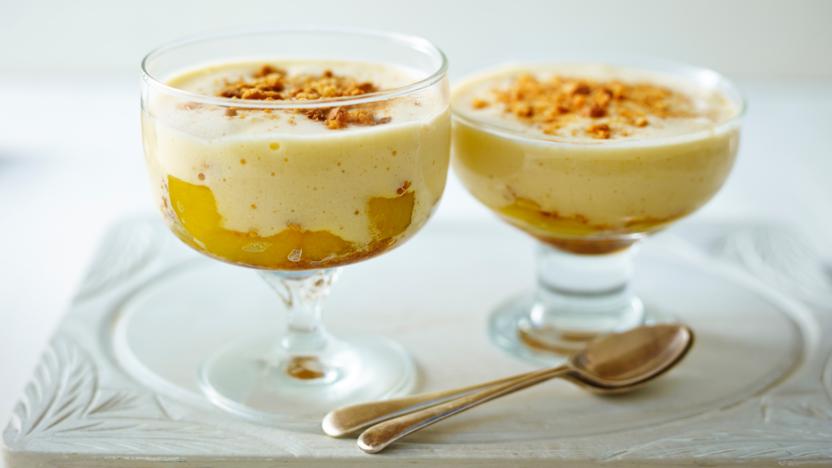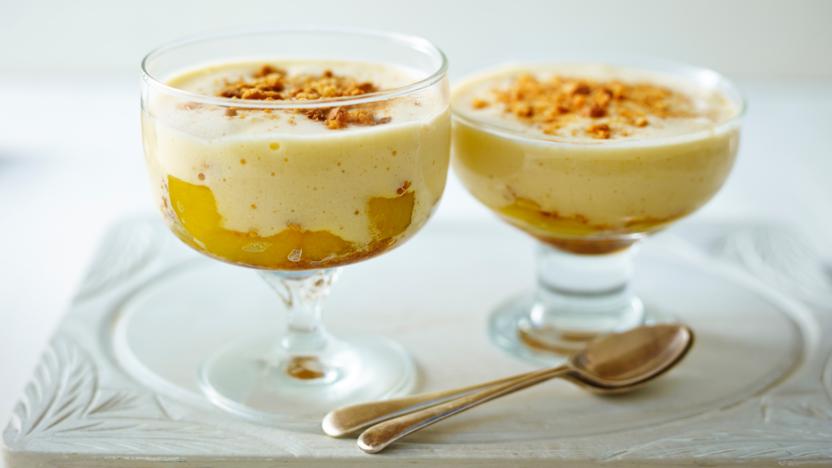 Zabaglione is an Italian custard, served here in layers with poached peaches and crushed amaretti biscuits. Delizioso!

Method
Bring a large pot of water to the boil. Have a bowl of iced water ready. Place the peaches into the boiling water, and leave for about one minute. Immediately remove from the hot water and plunge into iced water. Peel the peaches and chop them into bite sized pieces and discard the stones.

Place the peaches into a high-sided frying pan so that they form a single layer. Pour over 150ml/5fl oz of water and add the sugar and lemon verbena.

Cut a circle of baking parchment to fit the pan. Cover the pan with the baking parchment and bring slowly to the boil. Simmer for 8-10 minutes until the peaches are soft but still holding their form.

Meanwhile make the zabaglione. Put the egg yolks, sugar and Marsala in a bowl and whisk to combine. Place the bowl over a pan of boiling water and whisk continuously until the mixture is creamy and has more than quadrupled in size. The zabaglione is ready.

Assemble the dish by scattering some of the amaretti biscuit crumbs in the base of a dish. Top with peaches, then more crumbs, then more peaches and then the zabaglione before finishing with a final flourish of crushed biscuits.
Wines
Try Amaretto Disaronno, or a Loire dessert wine, like Domaine des Forges, Quarts de Chaume 2010. For a delicious sweet sparkler try La Spinetta, Moscato d'Asti Bricco Quaglia 2011.
This recipe is from...
Recipes from this episode