Ploughman's cheese and pickle tart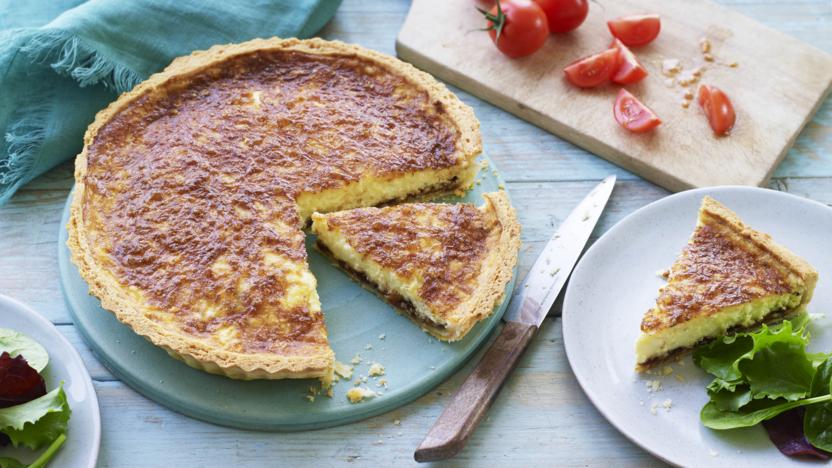 I love the combination of strong cheese and tart chunky pickle in a ploughman's, and that's my inspiration for this recipe. Cut through the cheesy filling and you'll find a hidden layer of pickle waiting to tantalize your taste buds.

Equipment: You will need a 23cm/9in loose-bottomed flan tin.
Method
Preheat the oven to 180C/160C Fan/Gas 4 and put a baking tray in to heat up.

Lay the pastry on a work surface dusted with a little flour, sprinkle the paprika over and knead the pastry lightly until the paprika has been incorporated. Wrap the pastry in cling film and chill in the fridge for 15 minutes.

Dust the work surface with a little more flour and roll the pastry into a circle that will easily cover the 23cm/9in tin, about the thickness of a pound coin. Lay the pastry over the tin and press it into the edges, right into the grooves, leaving some overhanging.

Line the pastry with baking paper and fill with ceramic baking beans to cover the base. Putthe lined tin on the preheated baking tray and bake in the oven for 25 minutes. Remove the paper and the baking beans and return to the oven for 15 minutes, until cooked through and golden-brown.

Meanwhile, mix the eggs in a jug with the milk. Spread the base of the tart shell with sandwich pickle over the base, sprinkle over the grated cheese evenly and pour in the egg mixture. Put the whole tray back in the oven on the middle shelf for 25–30 minutes, until the filling is set with just a very slight wobble in the middle.

Once the tart has cooled enough to handle, trim off the excess pastry using a sharp serrated knife. Leave to cool in the tin for 30 minutes, then transfer to a wire rack to cool completely. The tart is best served warm or cold the next day.
This recipe is from...
Recipes from this episode