Pineapple tarte tatins with black pepper caramel
Individual pineapple tarte tatin covered in a boozy caramel sauce with a peppery kick.

Ingredients
For the tatin
For the black pepper caramel
Method
Preheat the oven to 200C/400F/Gas 6.

Divide the sugar evenly between two small ovenproof blini pans over a low heat. Cook without stirring, until the sugar has melted and caramelised in both pans, turning golden brown.

Remove from the heat and place half of the butter into each pan. Stir gently to combine.

Place a pineapple ring into the caramel in each pan.

Place the rolled out pastry onto a clean, floured surface and cut out two circles slightly larger than the circumference of the blini pans.

Cover each pan with a pastry round, pushing the edge down around the pineapple ring. Transfer the oven and bake for 10-12 minutes, until the pastry is golden brown and cooked through. Remove and allow to cool slightly.

Meanwhile, for the black pepper caramel, place the sugar into a saucepan and heat gently without stirring until it has melted and turned a golden caramel colour.

Remove from the heat and place the base of the pan into cold water to prevent the sugar cooking further.

Add the double cream, rum and black pepper and stir to combine.

To serve, turn each tarte tatin out into the centre of a plate. Spoon the black pepper caramel around the tart and top with a spoonful of coconut ice cream.
Related Recipes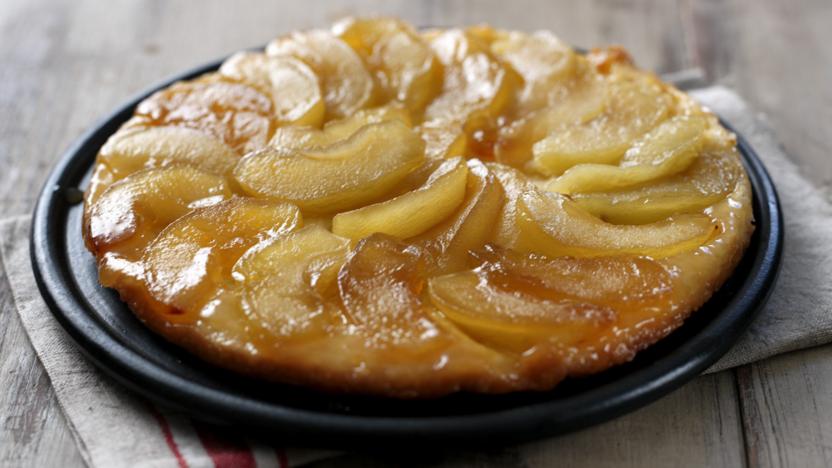 See more tarte tatin recipes (22)