Pickled jalepeño chillies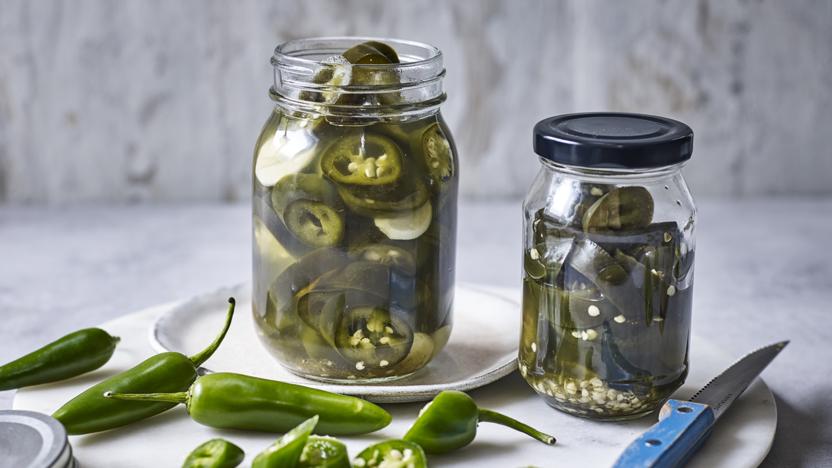 Preparation time
less than 30 mins
Cooking time
less than 10 mins
Serves
Makes 2 x 300ml/10fl oz jars
Neither crazily hot, nor wimpishly mild, the jalepeño is a gutsy little pepper. It has a robust spicy flavour with a hint of green bell pepper. I love to mix this pickle with sour cream or soft cream cheese then pile into corn tortillas or with slices of avocado, chicken or strips of pan-fried or grilled steak. Alternatively use a tablespoon of chopped pickled pepper in cheese scone dough, scatter onto pizza or spread in sandwiches.
Preparation time
less than 30 mins
Cooking time
less than 10 mins
Serves
Makes 2 x 300ml/10fl oz jars
Method
Rinse the jalepeños, trim off the stalks then slice crosswise into 4–5mm rings.

Put the vinegar, lime zest and juice, sugar, salt and oregano into a saucepan with 200ml/7fl oz water. Place over a medium heat and bring to a simmer for 5 minutes. Add the sliced jalepeños and garlic. Simmer for 3–5 minutes, or until everything is hot.

Remove the pan from the heat and spoon the jalapeños and garlic into the warm jars, packing them to the brim. Tip the vinegar mixture into a jug, then pour over the chillies making sure they are completely covered. Seal immediately. Invert the jars for a minute or so before turning the right way up and leaving to cool. Leave for a week or so before using.

Store in a cool, dark, dry place for up to a year. Keep in the fridge for up to 10 weeks once opened.
Recipe Tips
Take care when preparing jalepeños, or indeed any other type of chilli. Make sure you wash your hands thoroughly after preparing them, and resist the temptation to touch your face or rub your eyes. Wearing some easily washable gloves can help bypass this problem.
You can pickle the jalepeños whole – simply follow the recipe below, but instead of slicing, prick the chillies all over with a skewer or the point of a sharp knife to allow the pickling liquid to permeate.
To sterilise the lids and jars before storing the curd, put them through a hot dishwasher cycle that is at least 60C. Do not dry them with a tea towel, leave them to air dry. You can also preheat the oven to 140C/120C Fan/Gas 1, wash the lids and jars in hot water and place them in the oven for 15 minutes. Switch off the oven and remove the lids and jars once cool.