Pheasant breast with pearl barley, glazed carrots and spiced dates
Preparation time
less than 30 mins
Cooking time
30 mins to 1 hour
Impress your guests with this restaurant-style dish of pheasant, pearl barley and stuffed dates.

Preparation time
less than 30 mins
Cooking time
30 mins to 1 hour
Ingredients
For the pheasant
For the pearl barley
For the spiced dates
For the carrots
For the lion's mane mushrooms
For the chive oil
Method
For the pheasant, bring the stock to the boil in a large pan, add the crowns and poach for 20 minutes. To test that the meat is cooked, pierce with a skewer and check that the juices are clear.

For the pearl barley, tie the celery, leek, onion and garlic in cheese cloth. Put in a pan with the pearl barley, chicken stock, thyme and yeast. Simmer on a low heat for about 45 minutes, until barley is soft but retains its shape. Remove the cheesecloth and drain the barley. Season with salt and lemon vinaigrette.

For the spiced dates, in a frying pan, cook the shallot in the oil without colouring it. Add the cumin and caraway seeds. Fry the spices gently with the shallot until soft, leave to cool and then mix in the lardo.

Remove the skin and stones from the dates, keeping the dates whole. Stuff each dates with the lardo mix and roll it back to its original shape. Just before serving reheat the dates in a warm oven.

Cook the carrots in boiling salted water until al dente. Heat the butter in a clean pan until it is foaming. Add the carrots and coat in the butter, remove from the heat.

Fry the mushroom pieces in olive oil until crisp. Season with salt and pepper.

For the chive oil, heat the oil to 80C and add the chives. Infuse for a few minutes, leave to cool and then blend in a food processor until smooth. Pass the mixture through a fine sieve.

Just before serving, heat a little oil in a pan until hot and sear the cooked crowns to crisp the skin. Carve the breast from the crown.

To serve, spoon the pearl barley on two plates and top with the pheasant breasts. Garnish with the dates, carrots, mushrooms and chive oil.
This recipe is from...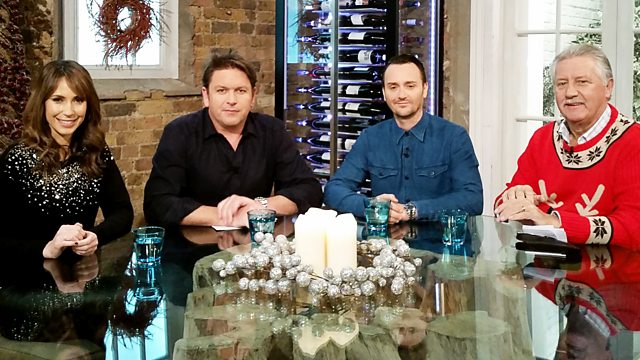 Christmas Kitchen
Episode 5