Penne with anchovy, broccoli, chilli and garlic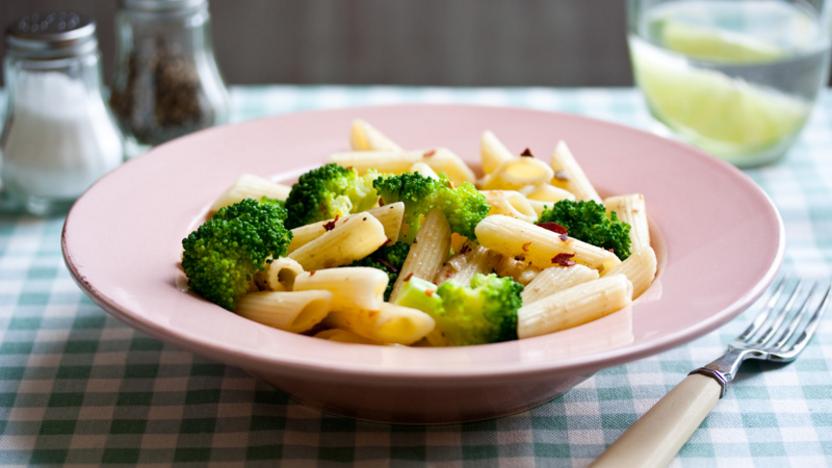 Preparation time
less than 30 mins
Cooking time
10 to 30 mins
Don't waste the flavoursome oil in your tin of anchovies. Here it's used to cook the garlic and chilli ahead of adding pasta and broccoli to the pan. This is designed to be a low cost recipe.

Each serving provides 423kcal, 19g protein, 75g carbohydrate (of which 4g sugars), 3g fat (of which 1g saturates), 8.5g fibre and 1.9g salt.
Preparation time
less than 30 mins
Cooking time
10 to 30 mins
Method
Cook the pasta according to packet instructions in a large saucepan of salted boiling water.

Heat a large frying pan over a medium heat. Pour 1½ tablespoons (or as much as there is in the tin if it doesn't make 1½ tablespoons) of the anchovy oil into the pan and, once hot, add the anchovies and the garlic, breaking the anchovies up with a wooden spoon as they cook. Cook gently until the anchovies have melted into a paste. Add the chilli flakes and mix well. Reduce the heat to low until the pasta is ready.

When the pasta is two minutes away from being ready, add the broccoli to the pan with the pasta. Continue to cook for two minutes and then drain, reserving a cup of the cooking water. Tip the pasta and broccoli into the pan with the anchovies and stir well to coat everything in the anchovy sauce. If the anchovies are too thick or the pasta a little sticky, then add a dash of the pasta water, stir and continue to add until all the pasta is coated with the sauce.

Taste and adjust the seasoning as necessary. Serve.
Recipe Tips
In May 2013 this recipe was costed at £2.21 at Asda, £2.19 at Tesco and £2.36 at Sainsbury's.
This recipe is designed to be made in conjunction with a
Related Recipes
See more anchovy recipes (169)