Pears poached in cardamom, cinnamon and chilli syrup with salted caramel sauce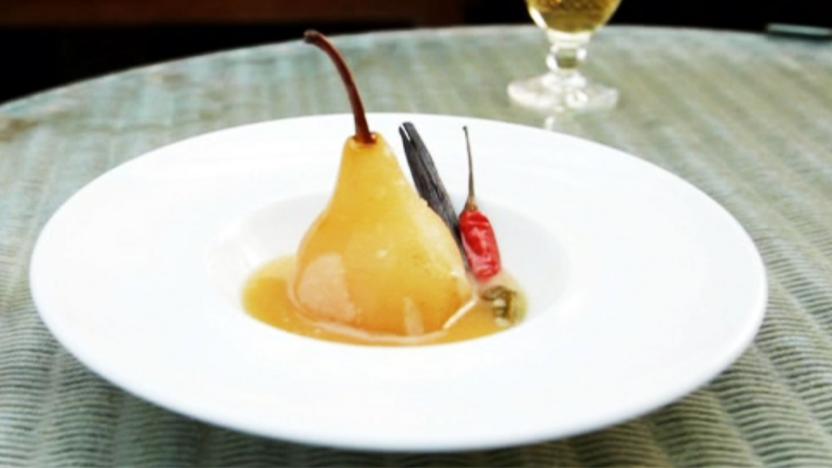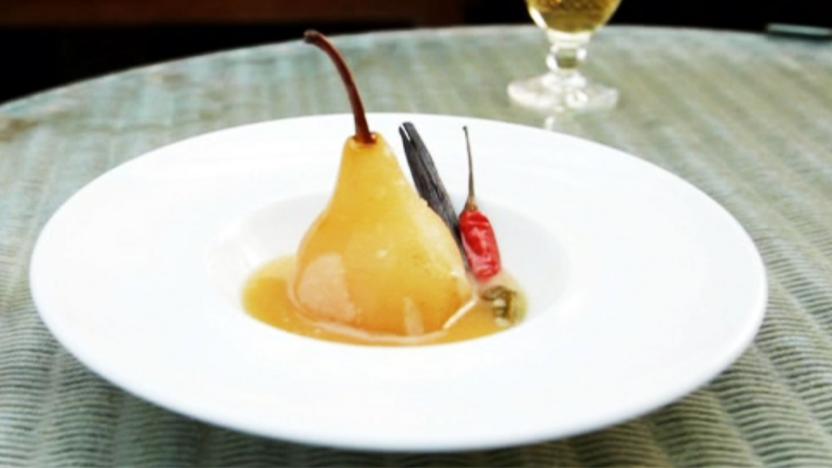 Poached pears are a light, sophisticated dessert, perfect for anyone looking to spice up their repertoire.
Ingredients
For the poached pears
For the salted caramel sauce
Method
For the poached pears, find a saucepan large enough to fit the four pears snugly.

Add the cider, sugar, ginger, cloves, cinnamon stick, chilli and cardamom to the pan and bring to the boil, then remove the pan from the heat.

Add the vanilla pod, vanilla seeds and pears to the pan, making sure the liquid covers the pears completely.

Cut out a circle of greaseproof paper a little larger than the diameter of the pan. Place the circle over the pears, pressing it down so that it fits inside the pan.

Return the pan to the heat and bring the mixture to a simmer. Continue to simmer for 35-45 minutes, or until the pears are just tender.

Remove the pan from the heat and set aside to cool, then chill the pears, in their syrup, in the fridge, overnight if possible (they will keep for 1-2 days).

When ready to serve the pears, strain 200ml/7fl oz of the cooled syrup into a pan (discard the collected vanilla pod, cardamom pods, ginger and cinnamon stick).

Bring the syrup to the boil, reduce the heat until it is simmering and continue to simmer until the liquid has thickened to a gloopy syrup and reduced in volume by half.

Whisk in the whipping cream and cook to heat for a further 1-2 minutes. Just before serving, sprinkle over the salt crystals.

To serve, carefully remove the pears from the remaining syrup. Slice the bottom off each pear so that each can be stood upright on a plate. Spoon over a tablespoon of the remaining poaching syrup. Drizzle over the salted caramel sauce.
Recipe Tips
Peel the pears carefully as they will hold their shape as they cook - presentation is key.
Instead of a salted caramel sauce, you could serve these pears with homemade chocolate sauce. Just melt 150g/5oz plain chocolate with 100ml/3½fl oz double cream, 1 tsp vanilla extract and 2 tbsp caster sugar, whisking until smooth, thick and luscious.