Pearl barley, butternut squash and sage risotto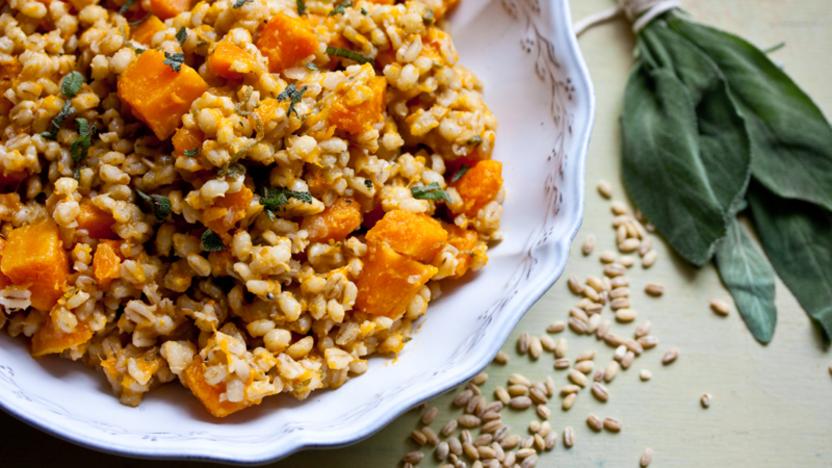 Pearl barley risottos are much cheaper than traditional risottos and have a pleasing nutty flavour that works wonderfully with the butternut squash and sage in this recipe.

This is designed to be a low cost recipe.
Method
Heat a large saucepan over a medium heat. Add 25g/1oz of the butter and, once melted, add the onion and squash along with a pinch of salt. Gently fry for 10 minutes, or until the onion is translucent and the squash is softening. Add the garlic and continue to cook for two minutes, or until aromatic.

In a separate pan, warm the stock and half of the sage leaves.

Add 25g/1oz of the butter to the onion and squash and, once melted, add the pearl barley. Turn up the heat and cook for 2-3 minutes. Turn down the heat to medium and add a ladleful of warm stock. Stir well to mix and, once absorbed, add another ladleful, stirring now and again. Repeat this process until the stock is used up and the pearl barley is tender (about 30 minutes).

Once the barley is tender, taste and season to taste with salt and pepper. Add the remaining butter to the pan and stir through.

Serve the risotto garnished with the remaining sage.
Recipe Tips
In May 2013 this recipe was costed at £2.74 at Asda, £2.86 at Tesco and £2.92 at Sainsbury's.
This recipe is designed to be made in conjunction with a