Pear tart with Stilton and pistachios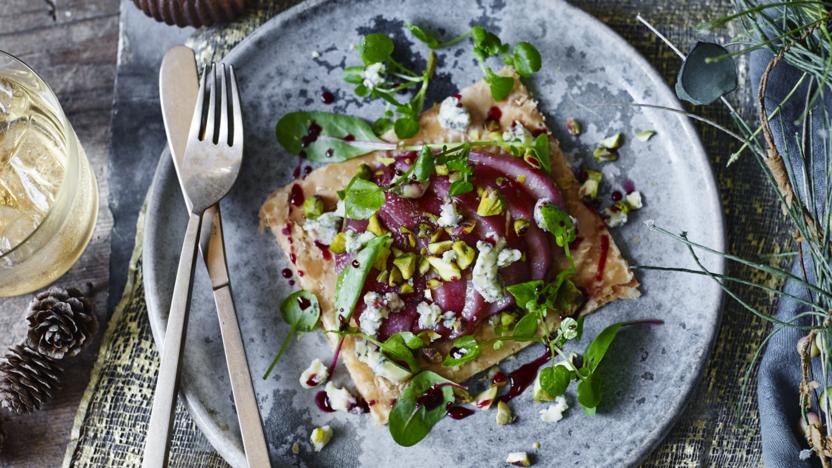 You could cook the pastry and pears well in advance and assemble these gorgeous veggie tarts in 5 minutes.
Method
Preheat the oven to 180C/350F/Gas 4. Roll out the pastry on a lightly floured surface to a rectangle about 3mm/⅛in thick and prick all over with a fork. Place the pastry between two non-stick baking sheets, transfer to a baking tray and cook in the oven until golden-brown and crisp. Leave to cool then cut into four rectangles.

Put the pears in a saucepan with the wine, sugar, liqueur, spices and chilli. Quickly bring to a boil then cover with greaseproof paper and simmer until tender, turning the pears gently during cooking. Remove the pan from the heat and let cool.

Once cooled, drain the pears, reserving the cooking liquid. Cut the pears in half, remove the cores then cut into slices and place on the rectangles of pastry.

Return the cooking liquid to the pan and boil quickly until the liquid is syrupy.

Sprinkle the Stilton and pistachios over the pears. Garnish with a few salad leaves dressed with the olive oil, lemon juice, salt and freshly ground pepper. Serve with a drizzle of the red wine syrup and a few drops of olive oil.