Try James Martin's deliciously different pear crumble flavoured with pear cider and doused in spiced custard.
Ingredients
For the pear and perry crumble
For the cinnamon custard
Method
For the pear and perry crumble, preheat the oven to 190C/375F/Gas 5.

Place the flour and 50g/2oz of the butter into a bowl and rub together with your fingertips until the mixture resembles breadcrumbs. Stir in the ground cinnamon and sugar.

Tip the mixture onto a baking tray and bake in the oven for 10-12 minutes, or until toasted and golden-brown.

Meanwhile, heat the remaining butter in a lidded frying pan until foaming, then add the pears. Fry for 1-2 minutes, then add the perry cider and bring the mixture to the boil. Reduce the heat until the mixture is simmering, cover and cook for 3-4 minutes, or until the pears are softened.

Spoon the pear mixture into an ovenproof dish and sprinkle over the crumble topping. Bake in the oven for 3-4 minutes.

Meanwhile, for the cinnamon custard, heat the cream, milk and cinnamon sticks in a saucepan until just boiling, then reduce the heat and simmer gently for 5-6 minutes.

Beat the egg yolks and sugar together in a bowl, then gradually add the warm cream mixture, whisking continuously. Return the custard mixture to the saucepan and cook over a low heat for 3-4 minutes, stirring constantly, until the mixture has thickened enough to coat the back of a spoon. Discard the cinnamon sticks.

Serve the pear crumble in bowls with a spoonful of cinnamon custard and a scoop of vanilla ice cream.
Related Recipes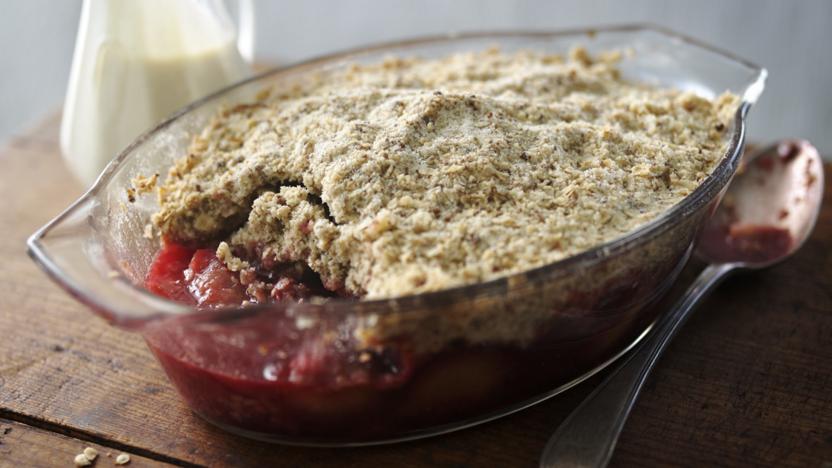 See more crumble recipes (17)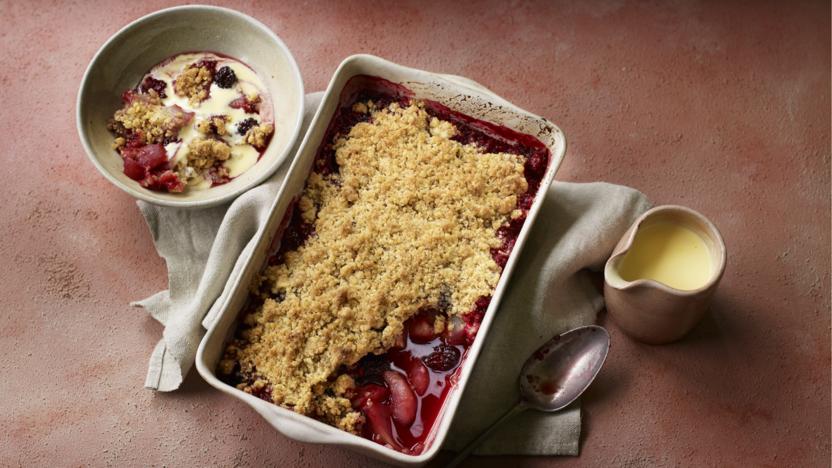 See more pear recipes (127)