Peanut butter cookies with banana ice cream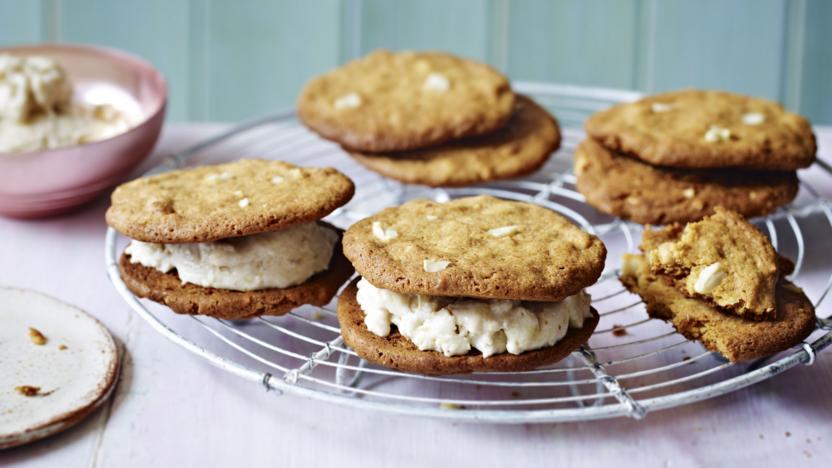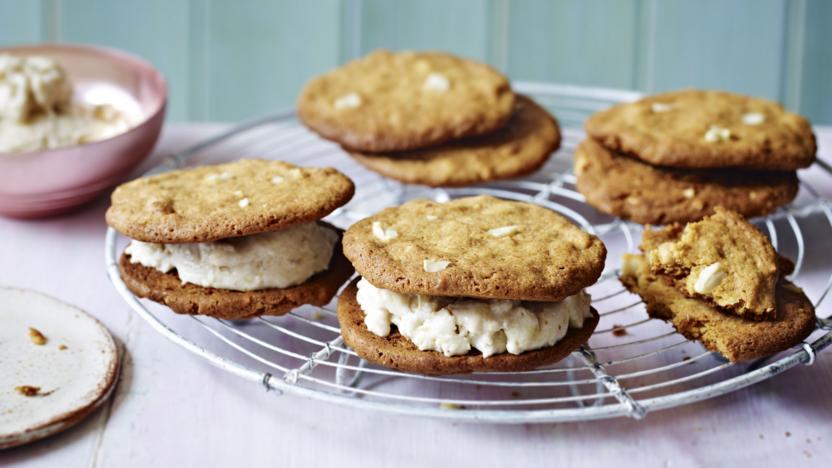 Crunchy peanut butter cookies and creamy banana ice cream combine to make wonderful ice cream sandwiches in this surprisingly easy recipe.
Ingredients
For the banana ice cream
For the peanut butter cookies
Method
To make the ice cream, peel the bananas, break them into small pieces and put into a large mixing bowl. Using a fork, mash the bananas until smooth. Add the remaining ingredients and beat together. Pour the mixture into a plastic container, cover with a lid and put in the freezer.

After half an hour take the mixture out of the freezer and use a fork to break up the ice crystals forming around the edges. Return to the freezer and repeat this process one or two times until the ice cream is frozen (the more you beat the mixture during freezing, the smoother the finished ice cream will be). This will take roughly 4 hours in total.

Meanwhile make the cookies, preheat the oven to 175C/155C Fan/Gas 4 and line two flat baking sheets with greaseproof paper.

Cream together the margarine and the sugar with a wooden spoon until pale. Beat in the egg, a little of the flour, the golden syrup and peanut butter. Stir in the remaining flour and the bicarbonate of soda then and finally stir through the peanuts.

Drop dessertspoons of the mixture onto the prepared baking trays. Leave plenty of space between them as the cookies will spread out during baking. Flatten each one with the back of a spoon then bake for 10 minutes. Remove from the oven, leave to cool for 10 minutes on the trays then transfer to a wire rack to cool completely.

To serve, top a cookie with a spoonful of the ice cream then sandwich together with a second cookie.