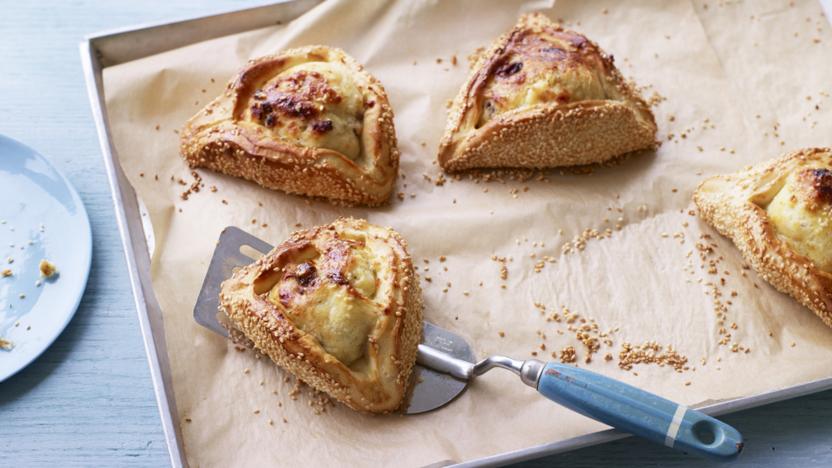 This Cypriot cheese-filled pastry uses ground mahlepi (a Greek spice made from the ground stone of the St Lucie cherry) in the dough, giving a hint of almond flavour. Delicious with a filling of pecorino romano, halloumi and sultanas.
Ingredients
For the filling
For the pastry
750g/1lb 10oz strong plain flour, plus extra for flouring
1 tsp mastic powder (a plant resin used in baking, available from specialist stores online)
2 tsp ground mahlepi, also known as mahleb (a Greek spice made from the ground stone of the St Lucie cherry)
1 tsp caster sugar
1 tsp salt
7g instant yeast
60g/2¼oz unsalted butter, softened
450ml/16fl oz full-fat milk
For the glaze
Method
For the filling, grate the pecorino romana and halloumi into a large bowl. In a separate bowl, mix the plain flour, semolina, yeast, dried mint and sultanas together. Beat the eggs and milk together in a jug.

Tip the flour mixture over the cheese and pour over the egg mixture. Mix together with your hands. Cover and leave to stand while you make the pastry.

For the pastry, tip the flour, mastic powder and mahlepi into a mixing bowl. Add the sugar and salt to one side of the bowl and the yeast to the other. Add the butter into the centre of the flour with 350ml/12fl oz of the milk. Combine the ingredients to form a soft dough. Gradually add the remaining milk - you may not need it all.

Place onto a floured surface and knead until smooth. Place back in the bowl, cover and leave to rest for 1 hour.

For the glaze, place the sesame seeds, vinegar and enough water to cover in a small saucepan and bring to boil. Drain well and spread the seeds over a clean tea towel to dry.

Preheat the oven to 200C/180C Fan/Gas 6. Line 3 baking trays with non-stick baking parchment.

Divide the pastry into large pieces and roll out on a lightly floured work surface until about 3mm/⅛in thick. Using a saucer as a template, cut into 12 x 15cm/6in rounds. Firmly press one side of the pastry rounds into the sesame seeds to coat.

To finish the filling, add the baking powder to the filling mixture and divide the filling into 12. Place one portion of filling into the centre of each dough circle and fold in 3 sides to make a rounded triangle shape, leaving a gap in centre with the filling exposed.

Place the flaounes on the baking trays, brush the tops with the beaten egg yolk and bake for 15 minutes. Reduce the oven temperature to 180C/160C Fan/Gas 4 and bake for a further 15 minutes, or until golden-brown and puffed up. Serve hot or cold.
Recipe Tips
Not all halloumi is vegetarian so check the label if you are cooking for vegetarians.