Pasta with chilli, bacon and tomato sauce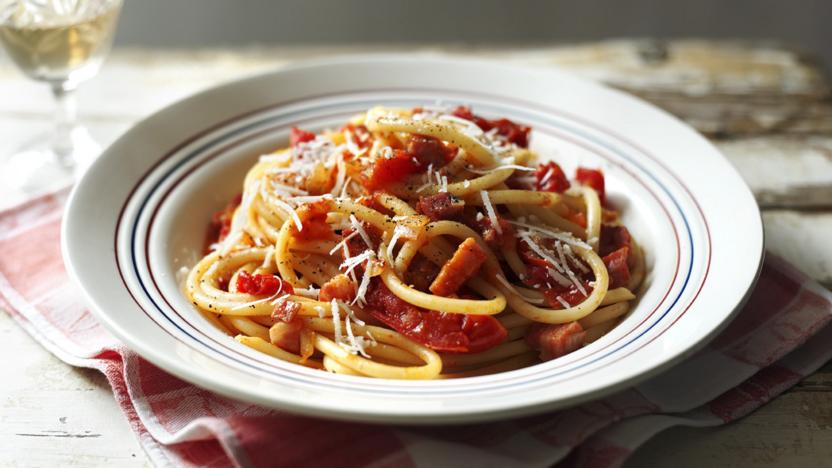 Preparation time
less than 30 mins
Cooking time
10 to 30 mins
This spicy, richly flavoured pasta dish is super quick to make. Use pancetta if you can't find the cured pork cheeks.
Preparation time
less than 30 mins
Cooking time
10 to 30 mins
Method
For the sauce, put the guanciale and onion in a pan with the oil and chilli, and fry gently for about 4-5 minutes. Add the white wine and tomatoes and cook for a further 15–20 minutes, stirring occasionally.

Meanwhile, bring a large saucepan of lightly salted water to the boil, and cook the pasta until al dente. Strain the bucatini and mix with the sauce. Serve sprinkled generously with the freshly grated pecorino.
Recipe Tips
Bucatini is a large spaghetti-type pasta with a hole down the middle, which makes it easy to cook. You should use guanciale, cured pig cheek, although you could substitute the less tasty pancetta. Use pecorino cheese here rather than the posher (and dearer) Parmesan.
Related Recipes
See more Best bacon recipes (14)
See more pasta recipes (61)
This recipe is from...
Recipes from this episode