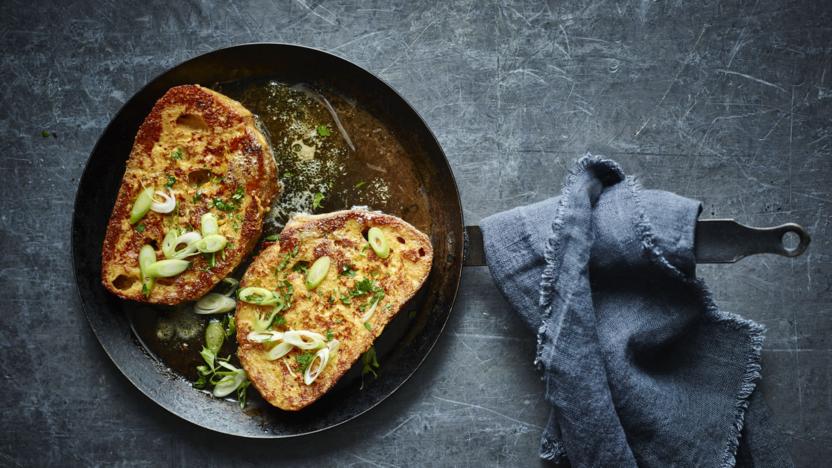 Preparation time
less than 30 mins
Cooking time
less than 10 mins
While obviously a contender for weekend brunch, this savoury take on French toast is, for me, a perfect early supper when I feel like something comforting and quick. It's also exactly what I need when I've come back in late, having uncharacteristically and disturbingly gone without dinner.
Preparation time
less than 30 mins
Cooking time
less than 10 mins
Method
Whisk the egg, Parmesan, paprika, mustard, Worcestershire sauce and milk together in a shallow dish that the slices of bread will fit in.

Sit the bread in this mixture for about 2 minutes each side, pressing down on it every now and again. You want the slices to be soaked through and softened, but not falling to pieces. Spoon any remaining egg mixture over.

When the bread is soaked, warm the butter and oil in a frying pan over a medium heat. Once the butter is beginning to bubble, fry the bread for about 2 minutes each side – keep a good eye on it – until it is cooked through with patches of golden-brown on the surface.

Remove from the pan, and eat just as it is, or sprinkle with chopped parsley and thinly sliced spring onion, if desired.
Recipe Tips
The white sourdough bread I keep in the house is a modest-sized loaf. If you happen to have a huge loaf of bread use just one slice and halve it.
Related Recipes
See more Christmas breakfasts recipes (29)
This recipe is from...
Recipes from this episode