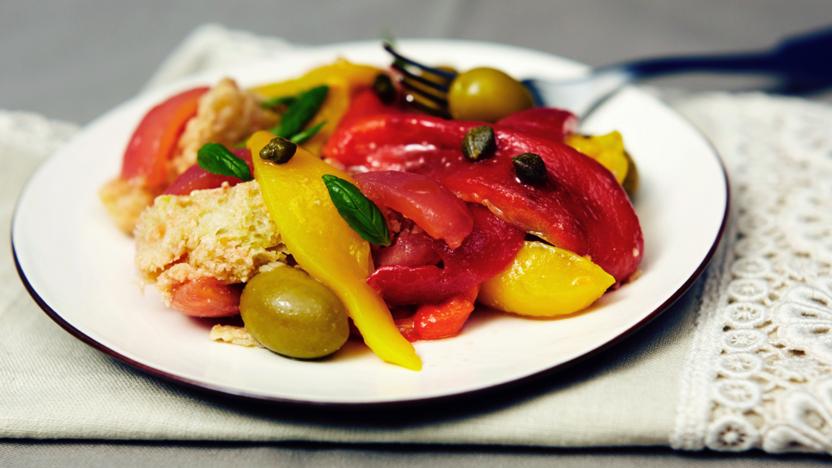 Do not throw away your old bread! Soaking it in a garlicky mixture of red wine vinegar, olive oil and tomato juices will bring it back to life Mediterranean-style for this classic salad.
Method
Preheat the oven to 180C/350F/Gas 4. Place the peppers on a roasting tray, drizzle a splash of the olive oil over and roast for about 15-20 minutes, or until the peppers are softened but not charred. Place them in a large bowl and cover with cling film for about 20 minutes. (When they have cooled the skin should peel away easily.)

Cut the stalk out of the tomatoes and blanch them by plunging in to a jug of boiling water for 45 seconds, or until the skins start to peel away. Using a slotted spoon, scoop out the tomatoes and plunge into a bowl of cold water. Once they have cooled, the skins should easily peel away.

Cut the skinned tomatoes into quarters. Remove the seeds and place them in a sieve over a bowl. Put the tomato quarters into a large bowl.

Push the seeds into the sieve to release the juice.

Peel the roasted peppers and remove and discard the seeds. Cut the flesh into large strips and put in the bowl with the tomatoes.

Mix the olives and capers with the tomatoes and peppers.

Rip the ciabatta into large chunks and put to one side.

Mix the vinegar, garlic and remaining oil with the tomato juice. Add salt and pepper and stir to combine. Add the ciabatta pieces to the bowl and leave for at least an hour so that the bread soaks up all the juice.

After an hour mix the ciabatta with the tomatoes and peppers. Tear in the basil leaves and using your hands gently combine all the ingredients.

Serve in a large bowl in the centre of the table.
This recipe is from...
Recipes from this episode