Pan-fried lamb chops with sweet potato and tomato chilli salsa
Preparation time
less than 30 mins
Cooking time
10 to 30 mins
Ingredients
For the tomato chilli salsa
Method
Preheat the oven to 180C/350F/Gas 4.

For the lamb, season the lamb chops with salt and freshly ground black pepper. Heat the olive oil in a small ovenproof frying pan and fry the lamb and garlic for 2-3 minutes on both sides, or until golden-brown, then transfer to the oven. Cook for 6-8 minutes (for medium), or until cooked to your liking, then transfer onto a warm plate to rest.

For the sweet potato, heat the olive oil and butter in an ovenproof pan and arrange the sweet potato slices in concentric circles. Scatter over the garlic and season well with salt and freshly ground black pepper. Cook over a low heat for 1-2 minutes, then turn the potato slices over and transfer to the oven for 8-10 minutes, or until the potatoes are golden-brown and tender.

For the salsa, combine all of the salsa ingredients in a bowl and stir well.

Spoon the potato slices onto a plate and place the lamb on top. Spoon the salsa around the edges and serve.
This recipe is from...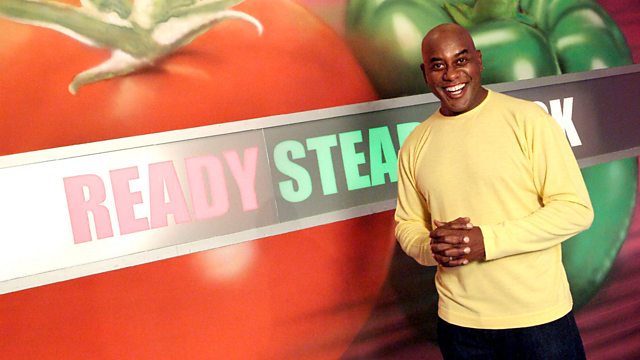 Ready Steady Cook
Episode 6